BULLHORN: FEBRUARY
Swing Shift Big Band
Palais Royale
1601 Lakeshore Blvd. West
There are many concerts worth checking out from February 14th-16th to celebrate Valentine's Day... but nothing is more special than a big band show at Palais Royale. Swing Shift will feature vocalists Glenn Chipkar, Dave Statham and Larisa Renee. You can come for the concert only ($50), but why not come for the dinner and dance ($100)? Info available at swingshiftbigband.com.
Tom Scott and The JAZZ.FM91 Youth Big Band
The Old Mill Inn
21 Old Mill Road
416.236.2641
Tickets and info at jazz.fm
The 3-time Grammy Award winning saxophonist will share the stage with some of the most talented musical youth in the city! Tom is up from Los Angeles a day early to work with the band and will no doubt inspire them and raise their game. This man has done countless soundtracks, jingles, solo recordings and is one of the most recorded musicians in America. Oh yeah, and one heck of a nice guy!
HUGH'S ROOM - VARIOUS DATES
Hugh's Room
2261 Dundas St. West
416.531.6604
Tickets and info at hughsroom.com
*All shows begin at 8:30, doors often as early as 6:00pm for dining.
If you haven't been to Hugh's Room... what are you waiting for? This is one of the best live rooms in the country... great sound and sightlines, good food and friendly service... and most important, a crowd that is there to listen! Here are just a few of the shows Bullhorn recommends in the next few months:
Thursday February 28
Helmut Lipsky and Melosphere bring their unique brand of cinematic music that blends jazz, classical, tango, latin, gypsy and rock genres. Helmut is one of the worlds' greatest living violinists and will be joined by Karen Young (voice), Matt Herskowitz (piano), Jean-Francois Martel (double bass) and Vladimir Sidorov (Russian accordion). This band has performed around the world (including the Montreux Jazz Festival in Switzerland) and has produced soundtracks for prize-winning movies, theatre and dance productions. Our bet is that you will agree this will be one of the best concerts of 2013!
Tuesday March 12
Barb Jungr is an internationally acclaimed, award-winning jazz and cabaret vocalist who makes her first Canadian appearance as part of The JAZZ.FM91 Cabaret Series.
An intimate night with a truly unique woman.
Tuesday March 19
Roseanna Vitro and her band arrive in Toronto to perform songs from her latest CD "The Music of Randy Newman". This Grammy-nominated singer has released twelve albums and has head lined The Blue Note, Jazz at Lincoln Center and The Kennedy Center in Washington DC.
This is her first performance in Toronto – don't miss it!
Monday April 8
My Favourite Folk, a command performance for Jaymz Bee that features many of his favourite folk, roots and blues artists such as Joe Hall, Tony Quarrington, Tom Parker, Heather Luckhart, Scarlett Jane, Sahra Featherstone and Julian Fauth.
This event kicks off Jaymz Bee's 50th Birthday Week. (more on that next month).
And speaking of Jaymz Bee...
w - palaisroyal.ca
Jaymz Bee's 50th B-Day Bash is April 13th at Palais Royale and he will celebrate by hosting a swing dance party that includes free pizza and mac'n'cheese all night long, a karaoke party in the basement and four of Canada's best loved acts: Alex Pangman and her Alley Cats, Terra Hazelton, Barbra Lica and The Shuffle Demons!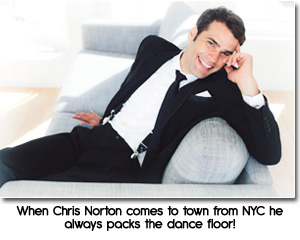 Special guest is Chris Norton... the lead singer/trumpeter for NYC's swing kings, Sly Blue!
Tickets are going fast so don't wait. $40 (or $100 for VIP tickets which offer more food and reserved seating).
Tickets at ticketweb.ca