BULLHORN: HAPPY NEW YEAR!!!
Breaking News:
SUNDAY DECEMBER 30 @ 8:00pm | doors at 6:00pm
Amy McConnell & William Sperandei Quintet @ 8:00pm
Don Francks & Friends @ 9:30pm
Hugh's Room
2261 Dundas St. West
For reservations:
Call 416.531.6604 or visit hughsroom.com
New Years Eve is a night when many people have solid plans and all too often it disappoints…so why not come for a guaranteed good time the night before? Enjoy some great food and drink, while catching two sets of music from two very different acts.
Vocalist Amy McConnell and trumpeter William Sperandei released their debut album "Stealing Genius" a month ago to critical acclaim. They will be joined by a killer band featuring Roberto Occhipinti on bass, Ben Riley on drums and William Sperandei on trumpet; all under the direction of pianist Mark Kieswetter. Their repertoire moves from '40s pop to '50s R&B to '60s musicals. Covering Elvis, Edith Piaf and Led Zeppelin, the unifying thread is their distinctive sound and approach to the music. Think k.d. lang meets Chris Boti... with edge!
Don Francks is an actor/singer/jazz musician. He began his career playing Toronto hotspots such as The Colonial Tavern, The Purple Onion and George's Spaghetti House before moving to New York to record and perform with guitar legend Lenny Breau. He was "discovered" by Jackie Gleason whose quote became the title of his seminal sixties recording called "No One In This World Is Like Don Francks". Although he has often played villains on shows such as Mission Impossible, The Wild Wild West, Man from U.N.C.L.E. and countless others, he is an affable, and thoroughly entertaining man on stage while singing his unique style of jazz. Don will be backed by a stellar band including Tony Quarrington (guitar), Richard Whiteman (Bass) Mark Kieswetter (piano) and Great Bob Scott (drums). Fellow actor/singer/dancer Roger Clown will also make an appearance as will the emcee for the night, Jaymz Bee.
New Year's Eve Comedy Extravaganza hosted by Harland Williams
Massey Hall
178 Victoria Street
416.872.4255
Show @ 7:30pm sharp!
$39.50 - $69.50
w - masseyhall.com
Massey Hall presents its 12th Annual Comedy Extravaganza with some of Canada's funniest stand-up comics, hand-picked by Yuk Yuk's main-man, Mr. Mark Breslin. The night features headliner Niki Payne and appearances by Dave Hemstad, Rebecca Kohler, Bryan Hattsmooth, Patrick Haye, Darcy Michael, Kate Rigg and Winston Spear. Once again, Jaymz Bee plays MD and Bonzai Suzuki will open the show and play the comics on and off stage. Bonzai will feature one of Canada's most talented pole dancers, Kiran Friesen. Also, on this festive night, Kevin Hearn from Bare Naked Ladies will perform with the show's emcee, Harland Williams. The show is early (ending about 10:30pm) so after you've had your fill of belly laughs you can always beeline to another party...
LOOKING AHEAD TO 2013
Monday January 21
The Old Mill Inn
21 Old Mill Road
416.236.2641
Doors @ 6:00pm | Show @ 8:00pm
$39 / $34 for JAZZ.FM91 Members and Students with I.D.
buy tickets online - click here
Burt Bacharach and Hal David were honoured at The White House and presented with the "Gershwin Prize for Popular Song". You will be sure to hear some of their biggest hits, including "The Look Of Love", "Wives And Lovers", "Walk On By" and "What The World Needs Now Is Love". An all-star line-up featuring vocalists Lori Cullen, Barbra Lica, Wendy Lands and Elizabeth Shepherd -- under the music direction of Lou Pomanti -- will pay tribute to the music of one of the world's greatest composing duos. It's a Bacharachattack!
Helmut Lipsky In Concert
Hugh's Room
2261 Dundas St. West
For reservations:
Call 416.531.6604 or visit hughsroom.com
Doors @ 6:30pm | Show 8:30pm
$35 advance / $40 door
Violinist/Composer, Helmut Lipsky is a prolific musician; classically trained and well-versed in a mix of musical languages from tango to contemporary and beyond. Born in Germany, he grew up in Switzerland and studied violin in NY with the great masters, including Itzhak Perlman. He moved to Montreal in 1980 and over the years, Lipsky opened for jazz legends Dave Brubeck, Stéphane Grappelli and Toots Thielemans. The five musicians he has assembled for his current project are world renowned and world class – we are fortunate to be able to welcome them to Hugh's Room.
Coming Up In APRIL 2013
Jaymz Bee's 50th Birthday Week!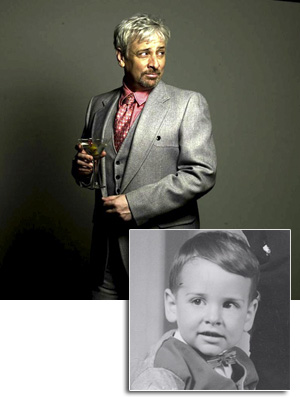 w - palaisroyal.ca
The fun begins on Monday, April 8th when Jaymz Bee hosts "My Favourite Folk" at one of his favourite clubs, Hugh's Room! This show features Joe Hall, Tony Quarington, Tom Parker, Juliann Fauth, Heather Luckhart, Sahra Featherstone, Scarlett Jane and more! Tickets are $22.50 in advance and $25.00 at the door. On Thursday April 11, Jaymz will appear with his pop project, Bonzai Suzuki at The Painted Lady on Ossington. Tickets are $20 at the door and include a free CD.
The biggest bash of the week is on his actual birthday, Saturday April 13th, at Palais Royale. 1601 Lake Shore Boulevard West (416) 533.3553 palaisroyal.ca. Swing dancers from across the province are coming to enjoy music from Alex Pangman & Her Alleycats, Terra Hazelton, Barbra Lica, Chris Norton (from New York City swing band, Sly Blue), Drew Jureka and more! At midnight there will be a set by the world-famous Shuffle Demons!
Tickets are $40 and there are a handful of VIP tickets at $100. To celebrate this event, Jaymz Bee has ensured there will be free pizza and mac and cheese available all night long! The Palais Royale show is a benefit for Unison Benevolent Fund and will also support Canada's only 24 hour radio station, JAZZ.FM91.