BULLHORN e-NEWS
v.2012.0329
Before we begin, a wee reminder that on March 30, 2012 at Hugh's Room, one of the world's great pianists, Adam Makowicz will take to the stage, with 'Hat & Beard' (a tribute to Thelonius Monk) performing as the opening act. Tickets are $25 and available at hughsroom.com
BULLHORN: APRIL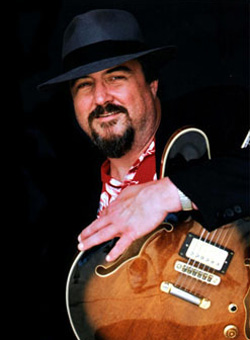 WEDNESDAY APRIL 4
Tony Quarrington & Friends
Monarchs Pub in The Delta Chelsea Hotel
33 Gerrard Street @ Yonge
416.595.1975
No Cover
7:00pm - 11:00pm
w - monarchspub.ca
April 4th officially kicks off a new jazz series at The Delta Chelsea Hotel. This celebration features Juno Award-winning guitarist and producer Tony Quarrington, along with multi-instrumentalists George Koller and Christopher Plock and featuring renowned vocalist Julie Michels. Jaymz Bee hosts. This new Jazz evening joins an already successful lineup of live music including Blues on Thursdays and Classic Rock on Fridays. Check their website for weekly listings.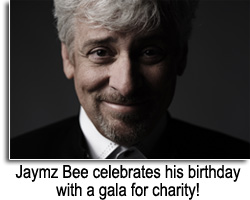 WEDNESDAY APRIL 11
BEE DAY 2012 - A Benefit Concert for UNISON
The Old Mill Inn
21 Old Mill Road
Dinner reservations - 416.207.2020
Hotel reservations - 416.236.2641
$20 minimum donation (access to both rooms!)
doors at 6:30pm
show 7:30pm - 12:00midnight
Jaymz Bee celebrates his 7th annual 42nd birthday with a benefit for The Unison Benevolent Fund. The night offers a jazz jam and open mic hosted by Lisa Particelli and friends in The Home Smith Bar. Those who want to sing will have a great trio to back them up: Peter Hill (piano), Ross MacIntyre (bass) and Norman Marshall Villenueve (drums). Come sing!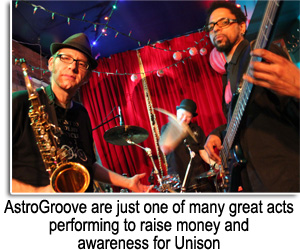 In the main dining room at The Old Mill Inn you can enjoy classical, jazz, pop, funk and more! This entertainment marathon is hosted by Barbra Lica and features Sly Blue, The Royal Jelly Quartet, Rob 'n' Bob Scott, The Heavyweights Brass Band, Richard Underhill's AstroGroove and pianists Mark Kieswetter, Anastasia Rizikov, Gia Ionesco and Waylen Miki. Surprise guest vocalists, poets and one of the world's greatest mentalists, Haim Goldenberg (of TV's "Goldmind" fame) will also make appearances! You only need to call if you want dinner reservations; otherwise just show up! If you can't make it, you can always log on to the Unison site and donate anyway!
The Unison Benevolent Fund is an assistance and referral program - created and administered for the music industry, by the music industry. Unison is designed to provide discreet relief to music industry personnel in times of personal hardship and crisis. Because so many are self-employed, they have no access to pension plans, unemployment insurance, employee assistance programs, sick leave and medical benefits. When tragedy strikes, many are unprepared to deal with the devastating financial and emotional burdens left in its wake. For more information please visit: unisonfund.ca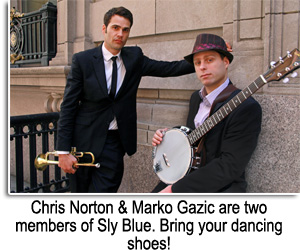 SLY BLUE
Various dates, venues and cover charges
New York's hottest swing act has become the rave of Toronto after their last two visits. They are back in town to record a CD and will appear several times in Toronto in April. In addition to April 11 at the aforementioned Old Mill Inn show (a short set at 7:30pm), they will be performing at:
Dovercourt House on April 10 with dance lessons 7:00pm and three sets of live music beginning at 8:00pm (swingtoronto.com)
The Reservoir Lounge on April 12. The 2-set show is from 7:00 - 9:00pm (reservoirlounge.com)
Dominion On Queen on April 13 from 9:00pm - 12midnight (dominiononqueen.com)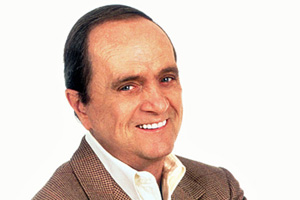 FRIDAY APRIL 13
Bob Newhart @ Roy Thomson Hall
60 Simcoe Street
416.872.4255
$59.50 - $79.50
w - masseyhall.com
One of North America's best loved comedians and television personalities, Bob Newhart is coming to Roy Thomson Hall! Newhart's deadpan wit is also featured on many comedy albums, which have garnered him numerous Grammy Awards. It is likely he'll perform some of his trademark stand-up comedy classics like "The Driving Instructor" and "Sir Walter Raleigh". This is sure to sell out so if you are opting for door number three, get your tickets now!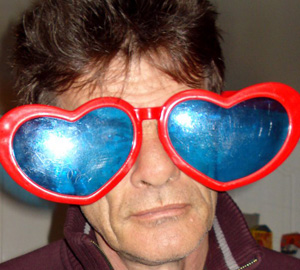 THURSDAY APRIL 19
A night for Billy Bryans
Lula Lounge
1585 Dundas Street West
416.588.0307
Doors @ 7:00pm
Performances begin @ 8:00pm
$20 suggested donation
w - lula.ca
Join us to support and celebrate Billy Bryans. Throughout his 40-year career, Billy Bryans has enriched and supported numerous musical genres and communities in Toronto. From his early years as producer of the Downchild Blues Band and as the drummer for Parachute Club through to his work with Toronto's African, Cuban and Brazilian communities (as a presenter, musician, DJ, producer and publicist) Billy has helped transform and diversify Canadian musical culture.
Confirmed performers for this evening's fundraiser include Laura Fernandez, Blue Basin, Aline Morales, Samba Squad and Son Ache. Look for dance performances by Bailaboogaloo and Casineros. The party goes all night with musicians and audiences from all walks of Toronto's musical life coming together to shout out (and we hope shell out) to show Billy the love.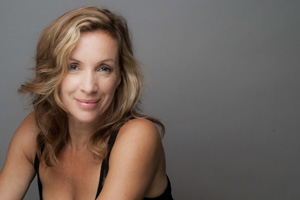 SATURDAY APRIL 28
Lyne Tremblay @ The Blue Dot Gallery
55 Mill Street (Distillery District)
416.487.1500
$46 (includes dinner and show)
Blue Dot Gallery celebrates its 35th anniversary with a series of jazz concerts, and the first is a rare performance by jazz singer and cabaret star, Lyne Tremblay! Lyne is backed up by stellar musicians including Marcel Aucoin on piano, Scott Marshal on sax and Great Bob Scott on drums. Pre-concert diiner is at 6:30 and the show begins at 8pm sharp. A cash bar offering wine and beer is on site. Both the performance and the ambience will be truly artistic. Contact Blue Dot now to make your reservations as these concerts have always sold out in the past!