BULLHORN e-NEWS
v.2012.0229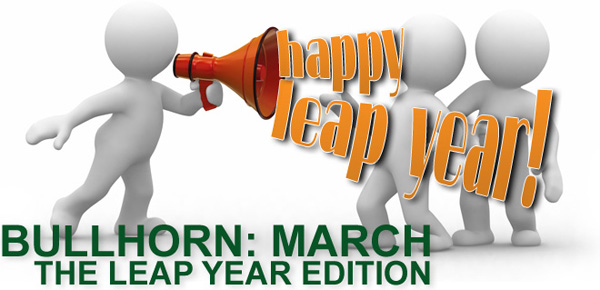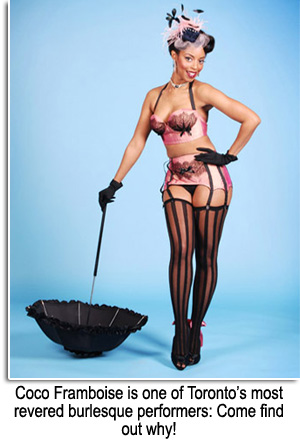 SUNDAY MARCH 4 & 18
Les Coquettes present: Speakeasy
Revival
783 College Street
Doors 6:00pm / Show 7:00pm
Dinner and Show $85 / Show Only $20-$55
For info and tickets lescoquettes.com
Les Coquettes and Revival are thrilled to present Speakeasy, a sizzling cabaret theatre where the entertainment is as sumptuous as the menu. Les Coquettes team with some of the hottest talent in the city -- including executive chef Christopher Woods -- to serve up a different show each night.
Treat yourself to vintage decadence with a feast for all of the senses and enjoy headliner Coco Framboise and her cast of hot burlesque talent including Billie Black and Dew Lily!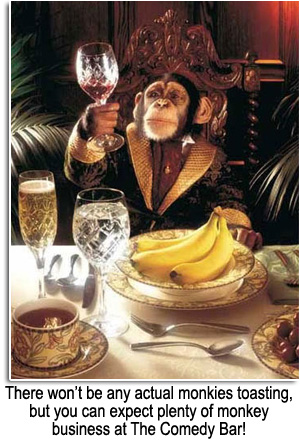 SATURDAY MARCH 10
Monkey Toast: The Improvised Talk Show
The Comedy Bar
945 Bloor Street West
416.551.6540
Doors 7:45pm / Show 8:00pm
$10
w - comedybar.ca | monkeytoast.com
Monkey Toast is a group of recognizable Canadian comics who improvise comedy scenes based on stories and information gleaned from a straightforward interview.
On March 10, Ron Tite is hosting the revamped comedy show and he will interview Olympic Gold Medalist Marnie McBean as well as Toronto City Councillor Mike Layton.
The show's improvisers include Lisa Merchant, Jan Caruana, Paul Bates, Sandy Jobin-Bevans, Naomi Snieckus and Kerry Griffin.
MONDAY MARCH 12
Havana Nights
The Old Mill Inn
21 Old Mill Road
416.236.2641
Doors 6:30pm / Show 8:00pm
$37.00 / $32.00 for JAZZ.FM91 members and students
w - jazz.fm | oldmilltoronto.com
JAZZ.FM91 and Raymond James present the second Latin inspired shows of their 2011-2012 Sound of Jazz Concert Series.
Havana Nights stars Jane Bunnett and Larry Kramer, as well as some of the most remarkable musicians from Cuba including Luis Mario Ochoa and Hilario Duran. The show will be hosted by Laura Fernandez who will also sing a few numbers.
Tickets available through the radio station now by going on line or calling during regular business hours.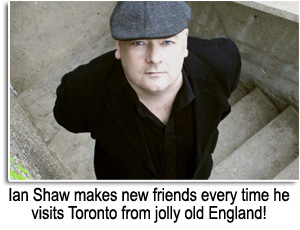 THURSDAY MARCH 15
Ian Shaw
Hugh's Room
2261 Dundas St. West
416.531.6604
Doors 7:00pm / Show 8:30pm
$40 adv. / $45 door
w - hughsroom.com
The JAZZ.FM91 – Kronenbourg 1664 Cabaret Series presents "A Broadway Stage Affair... Love Songs from The Great Musicals" starring one of the most famous award winning singers in England, Ian Shaw.
Ian began as a cabaret performer and actor but is also a fine pianist and an incredible entertainer. He can have you rolling in the aisles one moment and have you crying in your beer the next: A consummate professional with an incredible voice!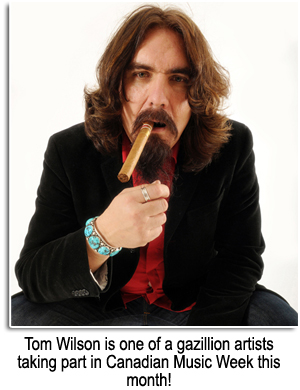 MARCH 21-25
Canadian Music Week
Various Venues
w - cmw.ca
A five night marathon with 900 artists from 40 countries in 60 venues: It must be Canadian Music Week!
Aside from checking out concerts (and comedy clubs) there are also lectures, panels and special events too numerous to mention here so check out their website.
Speakers include musicians such as; Burton Cummings, Fefe Dobson, Slash, Kellylee Evans, Dan Hill and Tom Wilson.
This convention also features dozens of the music industry's brightest and best who will take part in seminars, workshops and award shows.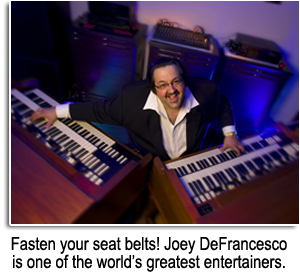 MONDAY MARCH 26
Joey DeFrancesco's Tribute to Jimmy Smith
The Old Mill Inn
21 Old Mill Road
416.236.2641
Doors 6:30pm / Show 8:30pm
$37.00 / $32.00 for JAZZ.FM91 members and students
w - jazz.fm | oldmilltoronto.com
Joey is considered one of the finest jazz organists in the world and will play tribute to the Hammond B3 master Jimmy Smith; who inspired him to play organ in the first place!
He will be joined by drummer Vito Rezza and guitarist/ jazz educator Ted Quinlin.
This show is already almost sold out so get your tickets now from JAZZ.FM91!
FRIDAY MARCH 30
Adam Makowicz
Hugh's Room
2261 Dundas St. West
416.531.6604
Doors 7:00pm / Show 8:30pm
$25 adv. / $27.50 door (includes HST)
w - hughsroom.com
Fans of classical and jazz take note: Piano master Adam Makowciz, a gentleman who usually plays large theatres and concert halls is doing a rare show in a cozy club!
You can be sure he will play some Chopin, Gershwin and some original songs that blend jazz and classical in a truly unique way. Makowicz has been awarded the Officer's Cross of Merit of the Republic of Poland and countless other awards and acknowledgements for his work as a piano virtuoso around the world. He began playing jazz clubs and concert halls throughout Europe before moving to New York in 1978 where he still spends much of his time.
Geoff Champan of The Toronto Star wrote: "a rare artist who grips and holds attention... a gifted improviser with splendid technical prowess."