BULLHORN e-NEWS
July 27 2011
JULY eNEWSLETTER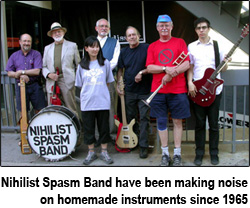 JULY 29-31
Electric-Eclectics Festival
Meaford, Ontario
Come celebrate music, art and meet some passionate people at the most unusual, surreal and memorable weekend of the summer. While the location is certainly off the beaten path, Google maps are on their site and they do have free shuttle bus service from downtown Toronto. Over 500 people are expected from around the world, many of them musicians and artists. You will meet people from 19 to 90 at this innately inclusive event. Come for the music – stay for the party! Bands involved in year six of the EE Fest include: Tim Viialainen (Finland), Idiot Glee (U.S.A.), Szely (Vienna), Alexander Hacke (Germany), Nihilist Spasm Band (London), Maurizio Guarini & Great Bob Scott (Toronto) and countless others.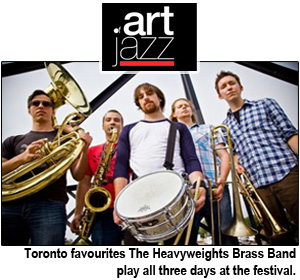 AUGUST 11-14
Brampton Global Jazz & Blues Festival
Various Venues
w - artofjazz.org | on FaceBook
Brampton Global Jazz & Blues Festival includes performances at The Rose Theatre, Gage Park and The Bramalea City Centre. Headlining the festival will be the legendary Dr. John (August 12-7:30 pm) and renowned jazz vocalist Bobby Mcferrin (August 13-7:30 pm). The festival will also feature: Downchild Blues Band, Grace Kelly Quartet, 'Queen of the Blues' Rita Chiarelli, Francisco Mela, Jazz Mechanics, Suba Sankaran & Autorickshaw, George Grossman Band, Jumpin Johnny Sansone, Tara Davidson, Luanda Jones, Elmer Ferrer and more.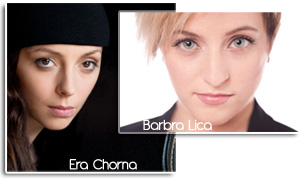 THURSDAY AUGUST 18
Era Chorna and Barbra Lica
The Blue Dot Gallery, Toronto
The Distillery, 55 Mill St. Buildilng 47
8:00-10:00pm
w - thebluedotgallery.com
p - 416.487.1500
The Blue Dot Gallery presents two of Toronto's hottest young jazz singers, Barbra Lica and Era Chorna in concert. Era has danced around the world before hanging up her ballet shoes and picking up a microphone. She's released two CD's and is currently working on her third. Her deep, rich, soothing voice gains her new fans at every show. Barbra is featured regularly on radio stations across the country despite the fact that she's only started to record her debut CD. Lica was featured on two hit singles for other artists; "You're Gonna Miss Me" by Joe Sealy & Paul Novotny and "Baby I'm A Fool" by David Statham. She is being touted as the next big thing by just about anybody who has seen her. Come see for yourself – two outstanding vocalists backed by Mark Kieswetter on piano, Colin Storey on guitar and Paul Novotny on bass. The buffet begins at 6:45 and the concert is at 8:00. Contact Blue dot directly to reserve tickets.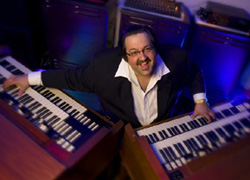 THURSDAY AUGUST 18
Joey DeFrancesco
Hugh's Room
8:30 show time
Tickets $35 advance / $40 door
w - hughsroom.com
After blowing the roof off of Convocation Hall to 1600 people at the JAZZ.FM91 Jazz Lives show last May, Joey returns to do an intimate couple of sets at one of Canada's best live music venues; Hugh's Room. Joey released his first CD on Columbia Records at the age of 17, and later that year toured all over Europe with Miles Davis. His mastery of the B3 organ has kept him busy ever since – and many critics have called DeFrancesco "the greatest living B3 player on the planet". Don't count on their being tickets at the door – go to Hugh's Room to get your tickets now!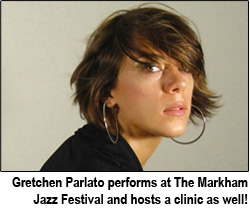 AUGUST 19-21
The 14th Annual Markham Jazz Festival
Artistic Director Michael Occhinpinti has once again put together a stellar line-up of jazz musicians from North America. The event takes place over three days in Markham and Unionville, beginning with a double bill featuring the young innovative vocalist Gretchen Parlato and one of Manhattan's most loved pianists, Bill Charlap who perform at The Markham Theatre on Friday the 19th. The various stages and clinics in downtown Unionville over the weekend will feature artists such as Suzie Vinnick, Ernesto Cervini, Tara Davidson, Montuno Police, Zebrina, Chris Tarry, Laila Biali and Kellylee Evans.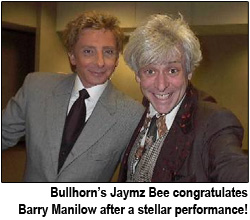 AUGUST 24
Barry Manilow with The Youngstown Symphony Orchestra
The Black Creek Music Festival
Tickets $64.50 - $156.00
The Capital One Black Creek Summer Music Festival continues this month with an appearance by non-other than Barry Manilow! He's had 25 consecutive Top 40 hits, 29 platinum albums and has sold more than 80 million records. Rolling Stone crowned him "a giant among entertainers…the showman of our generation" and Frank Sinatra summed up Manilow best when Ol' Blue Eyes told the British press, "He's next." No matter what kind of music you are into, witnessing Manilow live in concert is guaranteed to knock your socks off!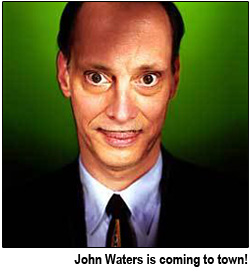 AUGUST 25–28
Festival of Fear
Metro Toronto Convention Centre, Bloor Cinema, etc.
w - rue-morgue.com
Rue Morgue, Canada's distinguished horror magazine is proud to bring back the Rue Morgue Festival of Fear National Horror Expo for its 8th annual run. This multi-genre event will descend upon the Metro Toronto Convention Centre August 25-28, 2011 as part of Canada's National Expo (supplemented with ComiCon, CNAnime, SFX and GamesX), and is expected to draw 60,000+ fans over four amazing days. Special guests include Martin Landau, Elvira, Malcolm McDowell, Robert (Freddy Krueger) Englund and renowned filmmaker John Waters. Speaking of Waters, you can enjoy an evening with him at The Bloor Cinema (516 Bloor St. West) at 8pm on Saturday the 27th. Tickets are $30 advance or you can get a $125 VIP ticket that includes post performance reception.