BULLHORN e-NEWS
June 1 2011
JUNE eNEWSLETTER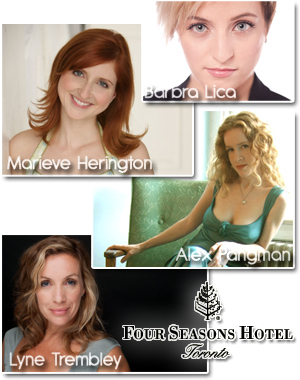 THURSDAY JUNE 2, 9, 16 & 23
Sirens of Song
The Four Seasons Hotel / 21 Avenue Road
7:00-10:00pm
w - fourseasons.com/toronto
p - 416.964.0411
The Four Seasons will play host to some of Toronto's most beautiful and talented jazz singers in this new series that runs every Thursday to June 30th.
Each singer will feature their favourite pianist on keyboards for the first half of the set and then will join them for the second half; more a salon night than a concert. A perfect night for wining and dining or cocktails and conversation – and there is no cover! This week it's Barbra Lica with Mark Kieswetter. June 9th Mark will be joined by singer Marieve Herington. June 16th, Alex Pangman, Canada's sweetheart of swing, will perform with Ross Wooldridge on the keys and finally cabaret star Lyne Tremblay and pianist Steve Hunter will wrap the series up June 23.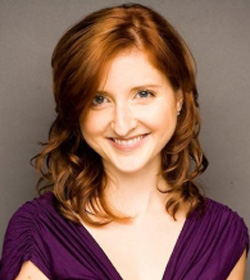 FRIDAY JUNE 10
Marieve Herington
The Blue Dot Gallery, Toronto
The Distillery, 55 Mill St. Buildilng 47
8:00-10:00pm
w - thebluedotgallery.com
p - 416.487.1500
The Blue Dot Gallery hosted a great jazz event with Elise LeGrow last fall and have decided to spring into summer with another special event called "Jazz In Bloom" with The Marieve Herington Trio featuring Mark Kieswetter on piano and Paul Novotny on bass. Marieve left Toronto a few years ago for Hollywood and since has been working steadily as a voice over artist, actor, singer and even has her own internet cooking show. She will sing jazz standards and plenty of songs made famous by the great Blossom Dearie. Tickets are $36 and include a buffet dinner at 6:30 and concert from 8-10pm. Hors d'oeuvres and wine will be offered. This is sure to sell out like last time so call ahead to reserve your tickets!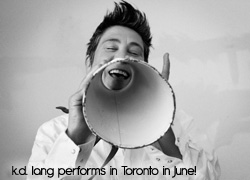 JUNE 10 – 19
Luminato - Various venues
w - luminato.com
Luminato is a celebration of theatre, dance, literature, food, fashion and film... and celebrates its fifth year in Toronto. Highlights of this year's festival include "Alice's Adventures In Wonderland", a co-production between The National Ballet of Canada and The Royal Ballet from the United Kingdom; "My Name Is Raj" -- an art installation that includes viewer participation at TIFF Bell Lightbox as well as dozens of free and ticketed events by such diverse acts as They Might Be Giants, k.d. lang, Dominic Mancuso, Kronos Quartet and many others; all taking place at Metro Square.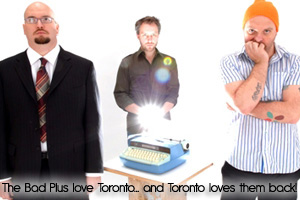 JUNE 24 – JULY 3
The TD Toronto Jazz Festival
Various venues
w - torontojazz.com
The TD Toronto Jazz Festival celebrates its 24th year. The festival has presented over 1,800 free events, contributed close to $400 million to the GTA economy and welcomed over 7.5 million people to the festival. Some of the jazz greats performing this year include: Dave Brubeck, Kurt Elling, The Bad Plus and the Legendary Count Basie Orchestra. Aside from the stages at Metro Hall, EnWave and other large concerts, all the jazz venues in town will be very busy showcasing the best of the local scene including Dave Young, Jackie Richardson and Gord Sheard.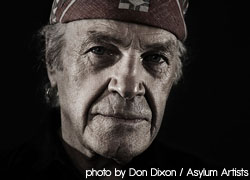 JUNE 29
Don Francks
Dominion On Queen, 500 Queen Street East
w - dominiononqueen.com
p - 416.368.6893
The legendary Don Francks performs his unique take on jazz standards with an all-star band under the direction of Steve Hunter at Dominion On Queen, Wednesday, June 29th at 8pm for only a ten dollar cover! Don is a renowned actor, having appeared countless TV shows from The Wild Wild West and Mission: Impossible and as a singer has appeared with everyone from Lenny Breau to Fred Astaire. Jackie Gleason once said "There is no one in this world like Don Francks!" Come see for yourself!
SUNDAYS IN JULY
Family Salsa Brunch
11am-3pm
Lula Lounge
1585 Dundas Street West
(W of Dufferin)
w - lula.ca
Lula Lounge has hit one out of the park with this idea. Doors at 11, live music at noon and 2pm, with a free dance lesson in between. (The kids love the dance lessons – and it's for adults too – or just eat and watch!) The cover charge includes brunch, coffee, tax and entertainment, and kids under 12 get in free. Best of all, you get to witness one of the great Cuban artists now living in Canada; Luis Mario Ochoa and his traditional quartet! Reservations are a very good idea: 416.588.0307