BULLHORN e-NEWS
June 3 2010
JUNE BULLHORN
WEDNESDAY JUNE 9
Melody Gardot
EnWave Theatre - Harbourfront Centre
235 Queen Quay West
416.973.4000
$40 (call now – almost all tickets are gone!)
During the five years Melody Gardot began recovering from a tragic car accident, she had written enough songs to record three full-length albums, the most recent of which, My One And Only Thrill, has received double platinum sales right across Europe! She has sold over 60,000 CD's to date in Canada, and loves Toronto for it's jazz audience, sailing and plethora of sushi bars!
SUNDAY JUNE 13
Strip Search! Tomorrow's Burlesque Stars
A Fundraiser for The Toronto Burlesque Festival
Revival Nightclub
783 College Street
Doors at 7:30pm
$12 advance / $15 at the door
Tickets at Rotate This, Nearly Naked and online at totix.ca
Strip Search is a contest for up and coming burlesque artists! Our show will feature competition in three categories: Best Burlesque, Best Boylesque and Best Variety Act. Over 20 sexy performers will battle it out to become one of this year's Strip Search Champions and win a spot in this summer's Toronto Burlesque Festival! The contest is judged by MTV Talent Coordinator, Derek Forgie; Artistic Director of Skin Tight Outta Sight, Tanya Cheex; and special surprise guests!.
EVERY THURSDAY IN JUNE
The Old Mill Inn
21 Old Mill Road
416.236.2641
The Old Mill Inn continues to book some of the best jazz in the country on various dates, including Thursday to Saturday in the Home Smith Bar and the brilliant Thursday Night Jazz Club in the main dining room.
June 10 Pat LaBarbera & Kirk MacDonald Quintet perform a Tribute to John Coltrane
June 17 Robi Botos Side B Band featuring renowned musicians playing instruments they are not famous for…a truly exciting concert!
June 24 Tribute to the late, great Rob McConnell by The Rob McConnell Tentet
JUNE 11 – 19
The Rochester Jazz Festival
Rochester, NY (various locations)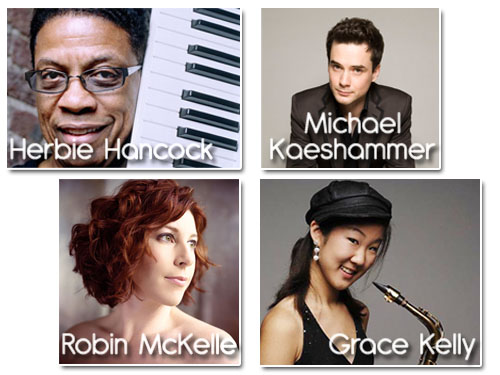 Rochester celebrates its 8th annual Jazz Festival with dozens of great acts in various venues... some ticketed events and tons of free concerts.
Some of the artists involved this year include: Mose Allison, Terry Clarke, Chuchito Valdes, Hilario Duran, Robin McKelle, Russell Malone, Michael Kaeshammer, Herbie Hancock, Grace Kelly, Jeff Beck and a festival favourite, Billy's Band, a group who performs Tom Waits songs... in Russian!
Harry Connick Jr. performs Sunday June 27 at Canon Theatre as part of the TD Toronto Jazz Festival.

JUNE 25 – JULY 4 The TD Toronto Jazz Festival
w - torontojazz.com
Over the past 23 years Toronto Downtown Jazz has presented of 23,000 artists, over 1,700 free plubilc events, contributed over $339 million to the GTA economy and welcomed over 7.5 million people to the Festival. Pat Taylor -- don't let the G-20 scare you... it will be business as usual this year!
Highlights for this year include a concert at The Four Seasons Centre by Keith Jarrett, Garry Peacock and Jack DeJohnette; the Koerner Hall Series featuring Nikki Yanofsky, David Sanborn with Joey DeFrancesco, Dave Brubeck Quartet and Roy Hargrove Big Band. The festival will feature jazz across the city in various clubs and once again call Nathan Phillips Square official head quarters. Other visiting dignitaries include Chaka Khan, Macy Gray, James Hunter, Herbie Hancock, Maceo Parker, John Scofield, Mavis Staples, Stanley Clarke, Harry Connick and countless others!
Would you vote for this man if he ran for Mayor of Toronto? (Uh we mean the guy on the left, the one on the right is already Mayor!)

TIME FOR PLAN BEE
w - facebook.com
Jaymz Bee wants to put the party back in Political Party!
Whether or not he chooses to run for Mayor of Toronto, he has set up a site on Face Book, Time For Plan Bee, and is enjoying sharing ideas with everyone about how to make Toronto a better city.
He has until September 9 to decide if he'll run (election is October 25) but in the meantime is really enjoying hearing from artists, cyclists, green thinkers and anyone with something to say about Toronto.
Sign up now!
You can also find information at jazz.fm and by listening weekday mornings (7-9am) to Benmergui In The Morning on JAZZ.FM91