BULLHORN e-NEWS
April 5 2010
APRIL BULLHORN
SATURDAY APRIL 10 - Let's Party!!!
Jaymz Bee's Birthday Bash
Dovercourt House / 805 Dovercourt (just N of Bloor)
w - swingtoronto.com | dovercourthouse.com
$18 / $15 for students
First Floor – The Jazz Lounge (Bee's birthday H.Q. with live music and DJ)
Second Floor – Swing dancing to The Ragweed Jazz Band
Third Floor – Blues dance party with The Douglas Watson R&B Review
Entertainer/author/radio and television personality Jaymz Bee celebrates his 42nd birthday (for the sixth time) on April 10th, and hopes to party with his old friends – and some new ones – at one of his favourite haunts in Toronto: The Dovercourt House. For those who only want to stop in and wish Jaymz the best, a minimum five dollar donation is requested for the main floor only. However, everyone is encouraged to take the $18 ticket and enjoy all three floors, all night long!
Beginner-friendly dance classes are 7-8pm (Charleston) 8-9pm (Lindy hop). There are also dance lessons on the top "blues" floor at the same times. All dances lessons are $2 each for the hour!
Aside from a timeless, dance hall ambience Dovercourt House also features timeless bar prices. Most drinks are $4-$6... and the most expensive thing they offer is a Jaymz Bee favourite: 12 year old MacAllan single malt scotch for $8! (It's usually $20 a shot!)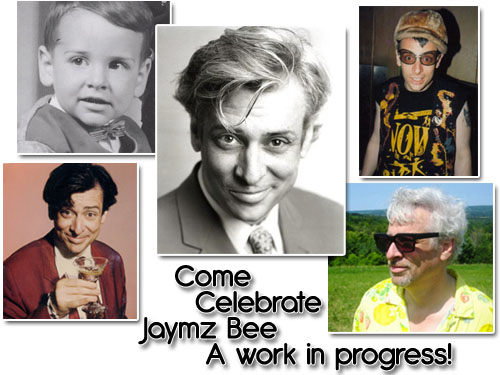 Jeanne Beker is back to emcee a seriously fun night!

MONDAY APRIL 12
Scrabble with the Stars
A benefit for PAL, Performing Arts Lodges
The Suites at 1 King West
6:30 pm
For tickets and more information please visit: scrabblewiththestars.ca
Scrabble with the stars is an annual fundraiser for Performing Arts Lodges, Toronto, which is an organization that helps performing arts professionals in the areas of health and affordable housing.
Dine, mingle and play Scrabble with some of Canada's most eminent celebrities including Gordon Pinsent, Jane Eastwood, Margaret Atwood, Mark Breslin, Alex Pangman, Elizabeth Shepherd and Graham Greene. Enjoy a nice dinner too! Only a few spots left – so hurry!
Vince DeLilla and John Worden are just two of the guests who will celebrate being an Aries at Liberty Bistro.

TUESDAY APRIL 13
An Aries Party... other signs welcome too!
Liberty Bistro
25 Liberty Street
416.533.8828
No Cover!
w - libertybistro.ca
It's an open mic night that features some terrific singer/songwriters and others who sing pop hits, country classics and jazz standards. All kinds of music, great food, ambience and people. There are several people celebrating their birthdays on this evening and if you or anyone you know has there birthday within a few days of this party, come one down for some spoiling!
Elise LeGrow is as talented as she is gorgeous. Say no more!

WEDNESDAY APRIL 14
Jazz Night with Elise Legrow Trio
The Blue Dot Gallery
The Distillery
55 Mill Street Building 47
416.487.1500
Located in the historic Distillery District in Toronto, The Blue Dot Gallery is a perfect blend of art and commerce. Yes, they would love you to buy art, but they also want to excite you with the art they've chosen to display, knowing that there is nothing like word of mouth to help artists become well-known. For this reason, Blue Dot has decided to do a monthly jazz series. The party will be licensed (cash bar) and will feature one of the fastest rising stars in the country, Elise LeGrow.
Elise has been offered a publishing deal from a major label, no small feat in these days of uncertainty within the music industry. She has performed to packed clubs throughout the city and recently blew away a sold out crowd at a benefit concert for JAZZ.FM91. This is a rare chance to see her with her trio in such an intimate setting.
When the party ends at 10pm, everyone is invited to Novotel (45 The Esplanade: 416.367.900) to enjoy Robert Scott performing solo piano in the Stage Door Lounge on the main floor. Free all night!
Fans and Friends of Don Francks will be happy to know he has a really big show! (photo by Don Dixon)

THURSDAY APRIL 15
The Don Francks Experience and Word Jazz
Lula Lounge
1585 Dundas Street West
416.588.0307
Doors at 7pm Show at 8pm
$20 at the door / half price for students!
w - lula.ca
Don Francks is best known as an actor but as been singing jazz and reciting poetry his entire career. His work with Lenny Breau in New York City caused the great Jackie Gleason to exclaim "There Is No One On Earth Like Don Francks", which later became the title of a Francks recording…on vinyl! Don has appeared in countless TV shows such as Mission Impossible, The Wild Wild West, La Femme Nikita, Kung Fu, Mister Rogers Neighborhood and Puppets Who Kill.
He also starred in the film "Finian's Rainbow" with Fred Astaire and Petula Clarke. Don will do one set of jazz, and also recite a few poems to music.
Following the Don Francks set, many of Toronto finest poets will congregate for some Word Jazz.
Clever stuff from writers such as Dale Percy, Chris Hercules, Mike Hanson, Jaymz Bee and the one and only Robert Priest.
Aside from these talented writers and singers, is a fantastic group of musicians that include Steve Hunter (piano), Artie Roth (bass) Eric St. Laurent (guitar) Great Bob Scott (drums), Christopher Plock (reeds, flute, percussion) and 17 year-old J.P. Saxe as a special guest. Tickets are available at the door. Contact Lula for dinner reservations.
Bill McBirnie will literally blow you away April 8!

THURSDAYS IN APRIL
The Thursday Night Jazz Club
The Old Mill Inn
21 Old Mill Road, Toronto
416.207.2020
The dining room at The Old Mill Inn becomes even more relaxed when the setting goes bistro to become the Thursday Night Jazz Club each week, featuring leading national and international jazz stars to light up the Toronto jazz scene. In an intimate night-club setting, this series headlines an exciting line-up that includes "TDJ Presents...", a Toronto Downtown Jazz monthly showcase of international jazz greats, and the best in big band jazz with the "Big Band Cabaret" the last Thursday of each month. All shows start at 7:30 sharp (doors at 6:00) and the cover ranges from $20-$30. Reservations recommended – full menu available. Free parking and steps to the subway! Check oldmilltoronto.com for details.
April 8 – Bill McBirnie Quartet (featuring David Restivo, Pat Collins and John Sumner)
April 15 – Jim Galloway's "Echoes of Swing" Sextet
April 22 – TDJ Presents "Mays at The Movies" with Bill Mays, Neil Swainson & Terry Clarke
April 29 – Brigham Phillips Big Band
Juliann has worked very hard to ensure her April 6 show will be unforgettable!

Speaking of The Old Mill Inn... TUESDAY APRIL 6
Juliann Kuchoki CD Launch for "Don't Explain"
The Old Mill Inn
21 Old Mill Road, Toronto
416.207.2020
Doors at 6:30 – 10:00pm
$25 reserved / $27 at the door
She might be a new kid on the block but vocalist Juliann Kuchoki sure knows how to book a great band! She will be joined by Robi Botos (piano), Ross MacIntyre (bass), Sly Juhas (drums), Kevin Barrett (guitar), Richard Underhill (alto sax), Alison Young (tenor sax), Rob Somerville (trombone), William Sperandei (trumpet), Bradley Harder (guest vocalist), and up from the U.S., special guest Kevin Clark on trumpet.
Contact The Old Mill Inn for reservations soon – it's almost sold out!