BULLHORN e-NEWS
February 8 2010
FEBRUARY BULLHORN
Four very cool events to consider for the shortest month of the year!
Saturday February 13 & Sunday February 14
BE MEIN VALENTINE!
Two Nights of Voluptuous Panic!
@ The Gladstone Hotel Ballroom
1214 Queen St. W. Toronto, ON.
Doors at 9 pm, Show at 9:30 pm.
Advance tickets - $25.
On sale at Nearly Naked (920 Queen St. W.), Rotate This (801 Queen St. W.),
The Gladstone Hotel and online at skintightouttasight.com and boylesqueto.com.
Tickets at the door - $30
For the first time ever, the women and men of Skin Tight Outta Sight, Toronto's longest running burlesque troupe, and Boylesque T.O. Canada's Only All Male Burlesque Revue, collaborate to bring you a show in the daring tradition of Weimar Republic Berlin. Over 15 performers will perform with The Alistair Christl Band providing accompaniment to the evening's erotic spectacles, along with acclaimed chanteuse Terra Hazelton as the scintillating Torch Singer, this show is guaranteed to get you all riled up to celebrate Valentine's Day! Join the two troupes after show for a shameful and scandalous Dance After Party with DJ Triple X!
Thursday February 25
Christopher Plock CD Release Party & Show!
"Blue Skies for Loveday"
Hugh's Room
2261 Dundas Street West
416 531 6604
w - hughsroom.com | christopherplock.ca
Opening act:
Daughters of the Evolution: Julie Michels, Terra Hazelton, Sophia Perlman
Thursday, February 25th is the night Christopher Plock celebrates his debut CD as a leader.
Although he has performed for decades as a leader and sideman, and released a demo several years ago, "Blue Skies for Loveday" is his official introduction to the world as a bandleader. Plock is a multi-instrumentalist who performs on clarinet, flute, percussion and all saxophones, (sometimes even playing two at the same time). His various skills are in high demand by some of Canada's leading music acts; most notably with the late, great Jeff Healey and his Jazz Wizards. He has sung for Harry Belafonte at a private event with The Royal Jelly Orchestra, won two Junos for his sax work on the K-OS CD "Joyful Rebellion" and has performed at many events for JAZZ.FM91 including Jazz Lives, The Sound Of Jazz Concert Series and The One Stop Vocal Jazz Safari.
Christopher is excited to perform in one of his favourite venues in town, Hugh's Room. Aside from perfect sound and sightlines, phenomenal food and service, they even have a real grand piano these days making it a perfect club for his combo!
You can enjoy also hear Christopher Plock and his band live (along with timeless chanteuse Terra Hazelton) on 91.1 (jazz.fm) on Thursday, March 18th from 7-8pm.
lizzyjacks! spkezy salon
a 1930's blues & jazz infused evening
Judith Cockman has been complimented all her life for her ability to cook great food and host fun parties. Now she is offering an experience in her upper beaches home for a select and exclusive group of people…including friends of Bullhorn! Enjoy home-cooking and live entertainment in three small rooms. The cover is $50 per person which includes food/music/ambience…bring your own wine or beer. These salon nights are limited to 20 guests.
The first salon by lizzjacks! featured Alex Pangman... coming up next is Juno Award winner Tony Quarrington on guitar, with vocals by Zoey Adams. A regular series is being planned now, so please contact Judith directly for dates, artists and details about her various events coming up.
judithfire@sympatico.ca
416.932.8058
Sunday February 14
Lula Lounge Valentine's Day!
Sinal Aberto featuring Luanda Jones (7:00pm + 9:00pm sets) and Brazilian Carnaval Party with Batucada Carioca (10:00pm)
@ Lula Lounge
1585 Dundas Street West
w - lula.ca
A night of Brazilian jazz for lovers and for lovers of music featuring Rio de Janeiro-born Luanda Jones and a cracker jack band lead by Gord Sheard featuring Mark Kelso, George Koller and Maninho Costa. Dinner and show packages on sale now. Or come for just the music and stay for our Brazilian Carnaval party with Batucada Carioca.
Following Sinal Aberto, Batucada Carioca brings carnaval to Toronto. Performing traditional hits from the best known samba schools of Rio, Batucada Carioca combines cavaquinho, bass and trombone with special guest vocals for a high-energy performance! With DJ General Eclectic.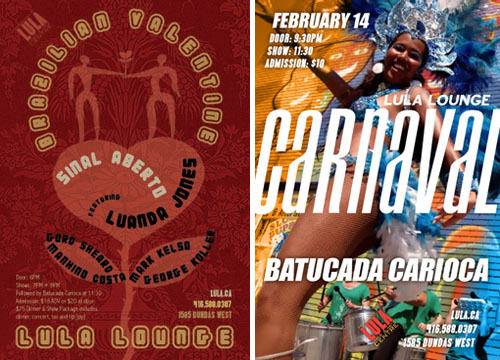 Coming Up In March:
Tuesday March 2 (7-9pm)
Alex Pangman at The Reservoir Lounge
Wednesday March 17
St. Patrick's Day Party at Novotel
Thursday March 18 and 25
The One Stop Vocal Jazz Safari at Lula Lounge
Sunday March 28
The Royal Jelly Orchestra performs at Harbourfront