BULLHORN e-NEWS
July 2009
JULY: Theatre, Dancing and Laughs – oh my!
Saturday July 4, 2009
Dancing at Dovercourt House
805 Dovercourt (just N of Bloor, E of Dufferin)
$10 for SHAKE IT
$13 for SWING IT ($15 for one dance lesson, $18 for two)
$20 for Both Parties and free dance lessons!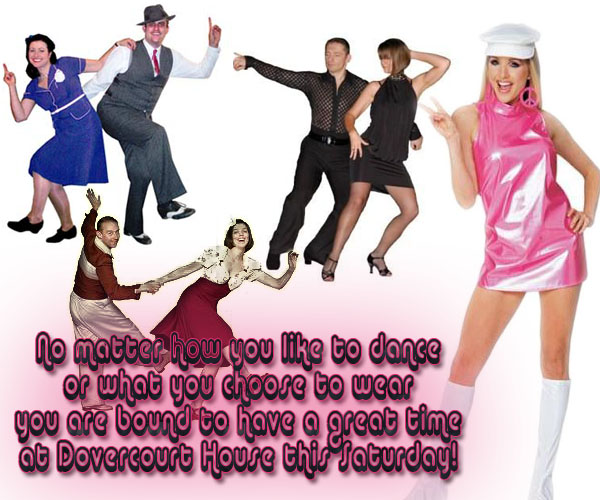 This Saturday there are three dance parties at Dovercourt House: Salsa on the third floor (separate cover), Swing on the second floor and Funk/Electronica/Etc on the main floor. Aside from being a charming venue with an old-skool dance hall vibe, Dovercourt House also has licensed bars with eighties prices!
Enjoy live music from The Drew Jureka Swing Band from 9pm on the second floor. Arrive early for dance lessons: Charleston at 7 and/or Lindy Hop at 8. Jaymz Bee hosts "Shake It" on the first floor which features great DJ's Tone Def Jef and Pooyan. For those inclined, there is a green screen on the stage for dancers who want to be filmed and plenty of chairs for those who are more into hanging than dancing.
For more information on swing dancing in Toronto please visit: swingtoronto.com and to book Dovercourt House for your event check out dovercourthouse.com
July 1-12th
The Toronto Fringe Festival is CHEAP & EASY
30 venues across the city from 11am until midnight!
Prices are $10 or less.
Get them ONLINE at fringetoronto.com
By Phone at 416-966-1062 or 1-866-515-7799
In person (July 1-12 only) at The Fringe Club, 292 Brunswick Ave
The Fringe, Toronto's largest theatre festival, is CHEAP & EASY! This is some of the most accessible, exciting and affordable entertainment in town. Catch rising stars from around the world, all for under $10. With 150 productions at 30 venues to choose from, there is something for everyone. They anticipate 60,000 in attendance and 1200 participating artists this year, and as always, the Fringe operates as a non-profit organization ensuring each year that 100% of ticketed box office earnings go back to the performers and companies. Don't miss the chance to see unjuried, unexpected and unforgettable theatre!
Monkey Toast
Sunday July 12 and Monday July 27 at 8pm
The Gladstone Hotel Ballroom / 1214 Queen Street West 416.531.4635
PWYT (pay what you think the show is worth)
w - monkeytoast.com
Monkey Toast is an award winning comedy troupe and present it's one-of-a-kind talk show at The Gladstone Hotel Ballroom. Each show contains interviews with three different celebrity guests. After an interview segment, the host/interviewer, David Shore, throws the flucs to the Monkey Toast players who then use the interview as inspiration for their improvised scenes. Guests have included Toronto Mayor David Miller, NDP Leader Jack Layton, Don Ferguson, Peaches, Sean Cullen, Don MKellar and countless others. The cast include comics from Comedy Inc., The Second City, The Bad Dog Theatre and occasionally Colin Mochrie from "Who's Line Is It Anyway" joins the ensemble.
Skin Tight Outta Sight & Friends Present The 2009 Toronto Burlesque Festival "Tassels without Borders"
July 23-26 with FOUR Days of tantalizing performances
VIP Weekend Pass - $100 - limited number available. "Front of the line" for all events!
w - torontoburlesquefestival.com
The Toronto Burlesque Festival is back for their second year with "Tassels without Borders", bringing you the best of the international burlesque scene!
Building on the success of last year they've expanded into a FOUR day festival filled with tantalizing performances, workshops, classes in burlesque and pole-dancing, art shows and a Boobalicious Bra Auction for The Weekend to End Breast Cancer and featuring over 40 performances from out-of-town artists.
Each show follows a vaudeville format with a Master (or Mistress!) of Ceremonies, comedians, live music, singers, variety, and acrobats along with the striptease artistes!
The Electric-Eclectics Festival
Whether you enjoy entertainment, irritainment, great music or loud noise, one thing is certain -- there is no festival on Earth quite like Electric-Eclectics!

July 31 – August 2, 2009
The Funny Farm (near Meaford, Ontario)
Electric Eclectics is a festival of experimental music and sound art that operates in Meafor, Ontario since 2006.
The fourth annual festival is under the direction of Gordon Monahan and Chris Worden. Whether you want to come for just the evening shows or camp for three days, one thing is for sure -- you will never forget this experience!
A Day Pass is $35 and a Weekend Pass is $65. You are welcome to bring your own food or take advantage of the concession stands. Performers come from around the world and include Lukas Ligeti (New York), Andrea Paolo Perger (Italy) Kunst Oder Fall (Germany), Yvat (Romania) and from Toronto, Corpusse, I Can Put My Arm Back On – You Can't, Holy Fuck and many more!
Friday July 17 @ Gladstone Hotel Ballroom
UMA NOTA Two Year Anniversary Party
Featuring ...
the Uma Nota debut of Batucada Carioca! Rio de Janeiro samba led by Maninho Costa
w - Gladstone Hotel
facebook - UMA NOTA
w - batucadacarioca
One Note (Uma Nota) is a Toronto event series providing an equal stage for live percussion & song acts and the dancefloor DJs that share a similar musical aesthetic. Sounds lean towards West African, Afro-Brazilian, Latin American and Caribbean but also extend to some of the exciting new cross-pollinations and fusions bubbling up around the city.
At One Note (Uma Nota), DJs and live acts alike challenge, engage and inspire the dance floor, celebrating unity in rhythm on both decks & drums!