BULLHORN e-NEWS
June 2009
Monday June 15, 2009 (Showtime 8pm)
Join us this Monday at Hugh's Room in celebration of the legendary Burl Ives.

BURL JAM – A Tribute To Commemorate the 100th Anniversary of Burl Ives
Hughs Room 2261 Dundas West, Toronto
416.531.6604
Tickets $22 / Children 16 or under $10
w - hughsroom.com
On June 14th 1909, Burl Ives was born. To commemorate this historic event, folk singers and fans of Burl will congregate at Hugh's Room for a night of music, testimonials, film clips and even a trivia contest.
Music provided by: Joe Hall, Roger Clown, Heather Luckhart, Jason Fowler, Sahra Featherstone, Waylen Miki, George Koller and music director Tony Quarrington. The emcee for Burl Jam is Jaymz Bee.
Dinner reservations and doors at 7, show starts at 8pm sharp.
Wednesday June 17, 2009
Robert Scott will entertain wine enthusiasts June 17th at The Four Seasons in support of a great charity!

WINE, DINE & ALL THAT JAZZ
A Benefit For Covenant House featuring Robert Scott
The Four Seasons Hotel
w - covenanthouse.ca
This annual benefit for Covenant House mixes three great things: single malt scotches and other top notch whiskies, gorgeous wine and hip jazz. There will be a fine wine auction as well as a silent auction. Chocolate and cheese wine pairings as well as a swanky dinner also paired with fine wines, courtesy of "The Wine Guy", Tony Aspler.
Proceeds from the event go to help homeless kids at Covenant House.
This event is almost sold out! For more info check please contact Tiffany MacDonald at 416.204.7088
Thursday June 25, 2009
THE ONE STOP VOCAL JAZZ SAFARI
A JAZZ.FM91 Fund Raising Event at Lula Lounge / 1585 Dundas West
Dinner at 6 / Show starts at 7pm sharp!
w - lula.ca
p - 416.588.0307
This event is a private concert for the generous donors of JAZZ.FM91 that will feature 30 singers in one night, all backed by Richard Whiteman (piano) Ross MacIntyre (bass) Mark Kelso (drums) and Christopher Plock (sax, flute, clarinet).
Singers include in no particular order: Heather Bambrick, Julie Michels, Laura Fernandez, Amanda Martinez, Beverly Taft, Ori Dagan, June Garber, Heather Luckhart, Lyne Tremblay, Melissa Pisarsowski, Janelle Monique, Kate Schutt, Errol Fisher, George Evans, Luis Mario Ochoa, Levi Collins, Shannon Butcher, Michael Danso, The Maisys, Elizabeth Shepherd, Elise LeGrow, Jessica Lalonde, DK Ibomeka, Jake Vanderham, Tyler Yarema, Lori Cullen and the four piece a capella group Cadence.
This is a private event for JAZZ.FM91 donors. To get a pair of tickets (limited quantity!) you are required to make a donation of $500 or more to JAZZ.FM91, a not-for-profit, registered charity radio station. (You will receive a tax receipt for your donation.) Contact Alison Liddell at 416.595.0404 ext. 257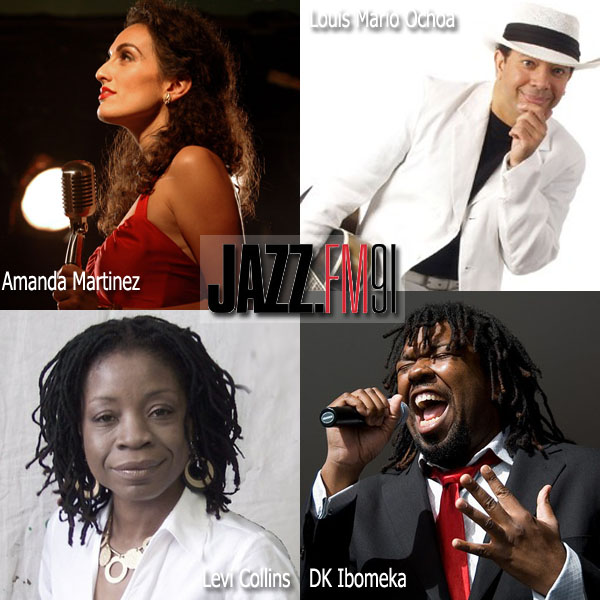 Amanda Martinez, Louis Mario Ochoa, DK Ibomeka and Levi Collins are just four of over 30 singers helping to raise money for JAZZ.FM91!
One of the highlights of the TD Canada Trust Toronto Jazz Festival is the return of Melody Gardot to the Enwave Theatre at Harboufront, June 29!

June 26 – July 5, 2009
TD Canada Trust Toronto Jazz Festival
w - torontojazz.com
What do Sonny Rollins, Melody Gardot, Jamie Cullum, Branford Marsalis, Elaine Elias and Tony Bennett all have in common?
They will all be coming to town for the TD Canada Trust Toronto Jazz Festival, one of North America's premier jazz festivals since 1987. Aside from the visiting dignitaries pictured here, there are countless others as well as local performers who will fill all the clubs and restaurants that book jazz.
Go to torontojazz.com for full listings and ticket information. Get your tickets now and avoid disappointment!
One of the highlights of the TD Canada Trust Toronto Jazz Festival is the return of Melody Gardot to the Enwave Theatre at Harboufront, June 29!
Wednesday July 1, 2009 at 5pm sharp
In 2004 The Shuffle Demons got 900 sax players together at Yonge-Dundas Square. On Canada Day, July 1, 2009 they will try for one thousand!

THE SHUFFLE DEMONS LIVE AT CITY HALL / NATHAN PHILLIPS SQUARE
The Shuffle Demons are attempting once again to make it into the Guinness Book Of World Records for having the most saxophones in one place playing one piece of music. To celebrate Canada's birthday, hundreds of saxophones will congregate to play OH CANADA.
Registration at Nathan Phillips Square begins at noon and must be completed an hour and a half before the event begins.
Only saxophones are allowed on site, and anyone of any level can participate. Just bring your sax, ID, and a music stand. The charts are written for people at various levels of proficiency and places like Long & McQuade will be renting saxes out at a special price for this event.
For more information and to register please go to www.tojazz.com. Also check out the Demons site at: shuffledemons.com