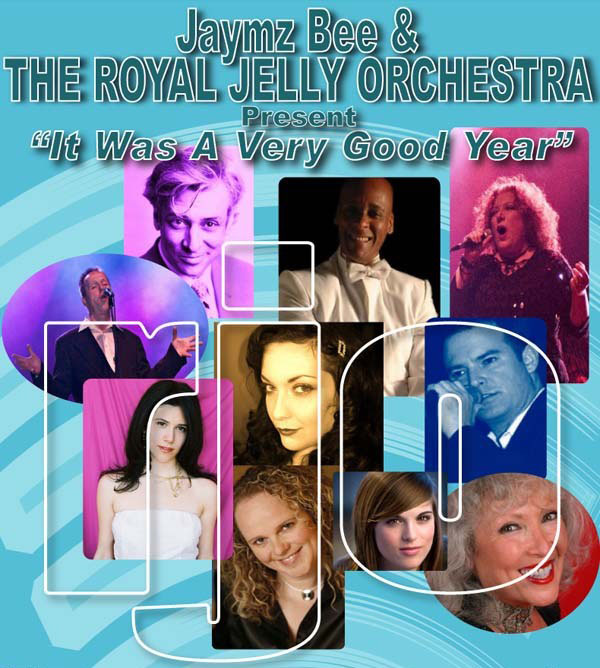 SUNDAY NOVEMBER 23
Show at 8pm sharp.
Jaymz Bee's Royal Jelly Orchestra
20 singers and musicians perform on the main stage for a mega party!
The RJO will perform a mixture of jazz, blues and even a little funk and soul.
Featured singers: Julie Michels, Sophia Perlman, Big Rude Jake, Michael Danso, June Garber, Terra Hazelton, Christopher Plock and 14 year-old Stephanie Welton.
The band: Waylen Miki (piano), Artie Roth (bass), Eric St. Laurent (guitar), Glenn Anderson (drums), Richard Underhill (alto sax), Christopher Plock (tenor sax and clarinet), Howard Moore (trumpet) and William Carn (trombone).
This is a rare opportunity for the public to enjoy the RJO. All their shows in the past few years have been private events and charity galas. Tickets also available at the door.
PLEASE NOTE:The band have a special show this Saturday, November 22 at 8pm, presented by The Oshawa Jazz & Blues Festival. The all ages show is at The Regeant Theatre in downtown Oshawa. Tickets available in advance and at the door. For information check out: regenttheatre.ca
SUNDAY NOVEMBER 30
Show at 6:30pm
A Tribute To John Arpin
This Tribute night features Louise Pitre, Michael Burgess, Peter Appleyard, Robert Scott, Adrian Luces, Diane Leah, George Koller, Tom Jestadt and more!
John Arpin was one of the worlds best known ragtime pianists, who was as comfortable performing with a full symphony orchestra as he was playing solo piano. From turn of the century classics to jazz to Broadway show tunes; hence the diverse line up of entertainment. Join us for an evening of great music to celebrate the memory of a true virtuso!
THURSDAY DECEMBER 4
Show at 9:00pm
Kurt Elling In Concert
Called the most innovative voice in jazz in the last decade, Elling has released seven albums for the Blue Note label. He's also recorded with many jazz greats including Jon Hendricks, Charlie Hunter, Randy Bachman, John Pizzarelli and bob Mintzer, to name a few. He is also Vice Chair of the National Academy of Recording Arts & Sciences, the 17,000 member service organization that produces the annual Grammy Awards. His singing is simply inspirational!
SUNDAY DECEMBER 7
Show at 2:00pm
June Garber "Here's To You"
This CD release and concert also serves as a fundraiser for Evergreen Hospice in Markham, Ontario. The evening's performance will include local jazz greats Bill King (piano), Terry Clarke (drums), Duncan Hopkins (bass), Luis Obergoso (percussion), Mike Murley (sax), William Sperandei (trumpet) and Anne Lindsay (violin).
If that wasn't enough, she will conclude the evening with the 18-piece GTA Swing Band. Now that's a really big show! Don't take your chances at the door - get your tickets in advance!
FRIDAY DECEMBER 12
Show at 9:00pm
Marc Jordan
Marc has written for Rod Stewart, Cher, Natalie Cole, Bette Midler, Bonnie Raitt and Diana Ross. He is one of those rare composers who seems as comfortable singing as composing for others and has released several successful solo albums. His new CD "Everytime It Snows" was released just this week and is in stores now. He can crack you up with his witty banter moments before breaking into a serious ballad. Get into the spirit of the season with a romantic evening out at a first class venue with one of Canada's finest performers.