BULLHORN e-NEWS
August 2008
TOMORROW – SATURDAY AUGUST 9
THE OSHAWA JAZZ & BLUES FESTIVAL
11am – 11pm Free Concerts at Memorial Park!
website - oshawajazzandbluesfestival.com
Performers In Order:
Kevin Clark, JAZZ.FM91 Toronto Youth Big Band, The Brian Rose Little Big Band, Peter Appleyard, Bill Durst, The Rolling Stones Project featuring Tim Ries, Sophia Perlman & The Vipers, DK Ibomeka, Jackie Richardson and The Shuffle Demons.
Free Shuttle Bus from The Rex Hotel at 1pm... first come first serve.
The bus returns by midnight (or you can take a Go Train home if you want to leave earlier)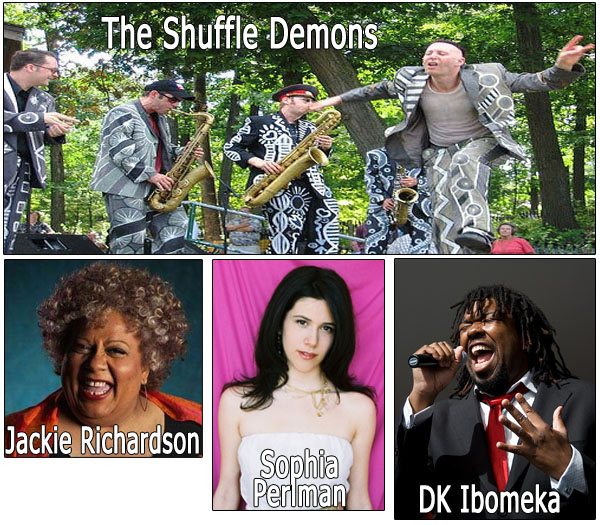 AUGUST 14 - 17
DUNDAS 33RD ANNUAL CACTUS FESTIVAL
905.627.0926
website - dundascactusfest.ca
A small town festival for the whole family. A Cacuts Parade, Baby Cactus Contest, Midway Rides, Live Bands and more!
OK, you've probably never heard of any of the bands... and there really isn't much info on their site, but Dundas Ontario is such a cute little town. If you go, be sure to check out the DeLuxe Restaurant, which is used in feature films and TV shows as an authentic sixties diner... and is rarely open to the public. Enjoy a fountain coke while listening to an old juke box.
AUGUST 15 - 17
THE MARKHAM JAZZ FESTIVAL
website - markhamjazzfestival.com
The Markham Jazz Festival is back in their 11th year with 'Hot Jazz, Cool Cats' and is bigger and better than ever!
Come and see a mix of diverse and eclectic jazz performers drawn from the cream of the crop of Canadian jazz and a wide variety of other countries including the U.S.A. and Cuba.
The Festival's repertoire spans a variety of genres, including traditional, swing, Latin, fusion, world, and contemporary jazz. Jaymz Bee hosts the stage in TooGood Pond park which includes performers; Alex Pangman, Elizabeth Shepherd Quartet, Jim Galloway Wee Big Band, Ted's Warren Commission, Arlene Smith / Mark Eiserman Duo, MJF all stars and many more...
And coming up in early September: SEPTEMBER 3 - 7
THE GUELPH JAZZ FESTIVAL
519.763.4952
website - guelphjazzfestival.com
The festival celebrates its 15th Anniversay with a one-day John Zorn tribute and a specially commissioned Afro-Cuban jazz cranaval at an outdoor tent featuring Jane Bunnett. Other musicians include: Tortoise, Burnt Sugar, L'Orkestre des pas perdus, Kevin Breit, DJ Spooky & Vijay Iyer, Lolipop People and much more!

SUNDAY AUGUST 17
SAMBA ON DUNDAS
1:00pm
website - dundaswestbia.ca
Brazilian music fans - mark your calendars! On August 17th, Dundas West will be transformed into a Brazilian dance party at the Dundas West BIA's second annual Samba on Dundas.
With a lineup that includes Danca Brasil, Batucada Carioca, The Dance Migration, Samba Squad, and Capoeira Camara, Samba on Dundas is sure to be one of the city's liveliest street festivals.
Sponsored by Brasil News, Brahma Beer and Scotiabank and funded in part from a City of Toronto Festivals grant.