BULLHORN e-NEWS
March 2008
HAPPY FINGERS: A TRIBUTE TO THE PIANO
2 Steinway Grand Pianos, 6 Renowned Pianists & Complimentary Wine Sampling
Sunday March 9 @ 2pm
DIESEL PLAYHOUSE
56 Blue Jays Way, Toronto 416.971.5656
Tickets $20 at the door or in advance (Advance ticket buyers get the best seats)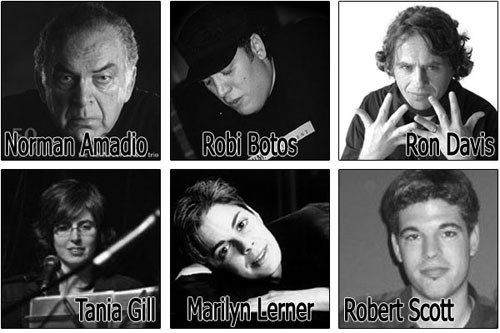 NORMAN AMADIO
Norman was a prominent figure in the late 1940's and early 50's as a featured pianist on CBC TV variety shows and live at the famous House of Hamburg in Toronto. He went on to serve as a sideman for luminaries including Stan Getz, Carmen McRae, Coleman Hawkins, Lester Young and Mel Torme. He released a 3-CD set called "50 Years" featuring his trio and solo piano. He will be 80 in mid-April this year and continues to play regularly for live concerts and recordings.
ROBI BOTOS
Robi Botos is a multiple award winning, self-taught jazz pianist who performs as a soloist, with his trio, as a member of the bop band Kollage, and as a sideman for numerous artists. He was awarded first prize in the prestigious Montreux Jazz Fesitval solo piano competition and opened for Oscar Peterson in Europe in 2005.
RON DAVIS
Ron is a pianist, composer, arranger and former lawyer and professor. He is recorded numerous albums and is heard on radio across the country and almost daily on JAZZ.FM91. His "Jazz For Herbie" annual concert raises thousands of dollars for The Herbie Fund at the Hospital For Sick Children and he continues to perform from Toronto to Tokyo with various sized ensembles.
TANIA GILL
Tania Gill is a Toronto-based jazz pianist, composer and arranger has worked extensively in Canada's jazz and improvised music scenes. She is a member of The Flying Bulgar Klezmer Band, Andrew Downing's Melodeon, Runcible Spoon, Saint Dirt Elementary School, Deep Dark United and the AIMT Orchestra.
MARILYN LERNER
Exhilarating jazz pianist/improviser Marilyn Lerner performs to acclaim internationally, from her native Montreal to Havana, from Jerusalem to Amsterdam and the Ukraine. Her groundbreaking recordings have garnered international recognition and when she is not recording or touring Marilyn can be found composing film for theatre, film, radio and television. She has performed with such talented musicians as Sonny Greenwich, Matt Brubeck, David Wall and Tito Puente.
ROBERT SCOTT
Robert is an award-winning master pianist who has composed for CITY TV, CTV, CBC radio, and the N.A.S.A. space agency, among others. He has recorded and toured with Bill Cosby, Jeff Healey, Michael Buble, and many more. Robert graduated from the prestigious Berklee School of Music and also holds a Bachelor of Education from the University of Toronto, where he was awarded Music Education Innovator of the Year. This past November Robert spent time in Vancouver with Michael Buble writing music together. The resulting collaboration - (the "Hollywood" song) - Michael plans to record this year.
Bring your significant other to see Kenny Rankin... you will melt!

ALSO ON SALE NOW...
TICKETS FOR TWO SHOWS ON APRIL 13th at DIESEL PLAYHOUSE
2pm Happy Fingers
A Tribute To The Piano (also Jaymz Bee's Birthday - singers featured in the second set)
8pm Kenny Rankin Live In Concert
(already half sold out, get your tickets now!)
No, it's no Steve Buscemi's little brother, it's Big Rude Jake!

BIG RUDE JAKE
Live at Lula Lounge
Wednesday March 5 doors 7pm / showtime 8:30pm
$15 at the door
Dinner Reservations Guarantee Seating
Lula Lounge
1585 Dundas St. West, (west of Dufferin St.)
416 588 0307 lula.ca
Big Rude Jake will perform a set of acoustic originals for one set and then be joined by his swing sextet for a second. He has released his music on various labels in North America and Europe, and is currently recording a new effort entitled "Quicksand", to be released later this year.
He performs on Friday Nights at The Reservoir Lounge (9:45pm - 2:00am) and can be found in various clubs as a soloist or leading various combos, but this Lula gig is special in that you will get to experience two completely different sets on the same night for only $15. The sound and ambience at Lula is magic -- and save an appetite; they offer a very reasonable prix fixe or a la carte menu from 7pm-10pm.
JAZZOETRY V
Wednesday March 19 @ 8:00pm
Liberty Bistro
25 Liberty Street
416.533.8828
NO COVER
The fifth installment of word jazz is already upon us. This series features readings from local poets that are bawdy, forthright and often hilarious!
Clever poets with live jazz music backing them up is cool... when you put it in a cozy venue with amazing food, you've got an inexpensive night on the town that you won't forget. Dale Percy hosts.