BULLHORN e-NEWS
February 2008
HAPPY FINGERS: A TRIBUTE TO THE PIANO
Six renowned pianists - one magical afternoon!
Starring: Mark Eisenman, Bill King, Bernie Senensky, Gord Sheard, Ken Skinner & Nancy Walker
Sunday February 17
2pm matinee only
DIESEL PLAYHOUSE
56 Blue Jays Way, Toronto 416.971.5656
Tickets $20 in advance or at the door.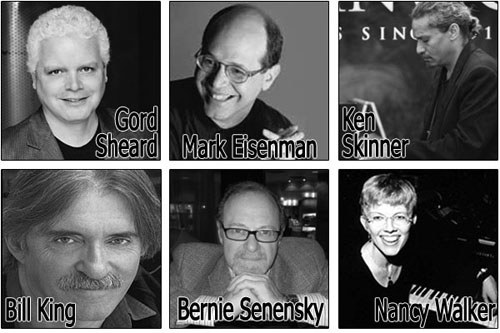 Half a dozen brilliant pianists gather together once again to perform solo pieces and improvisational duets for this unique jazz matinee in one of the best live music venues in Toronto. Remenyi House of Music delivers two Steinway grand pianos for this rare performance and free samples of a great wine, new to Toronto, will be available before the show and at intermission. Wild Horse Canyon wine will also be available for purchase throughout the show. It is fully licensed and has a snack menu as well.
(Although there isn't a bad seat in the theatre, it should be noted that advance ticket buyers get reserved seats so we recommend you order tickets for the season now rather than purchasing them at the door on the day of show.)
KEVIN CLARK LIVE IN CONCERT
Sunday February 17
Doors @ 7pm / Showtime @ 8pm
DIESEL PLAYHOUSE
56 Blue Jays Way, Toronto 416.971.5656
Tickets $20 in advance or at the door.
Kevin Clark has been rated one of the top trumpet players in both New Orleans and Toronto. Although he moved back to the U.S. last year, he's back for selected dates and this show will be unlike any other! Kevin will perform songs from his extensive repertoire including Louis Armstrong anthems, Al Hirt ditties and some of funk-inspired jazz that is so popular in New Orleans these days. He is joined by Peter Hill (piano), Denis Keldie (organ), Tony Quarrington (guitar), Chris Lamont (drums) and several surprise guest vocalists!
(Although there isn't a bad seat in the theatre, it should be noted that advance ticket buyers get best reserved seats.)
THE GREAT BALL OF 8's
Dinner & Dance
Friday February 15 @ 7pm
FAIRMOUNT ROYAL YORK Imperial Room
100 Front Street, Toronto
Kevin Clark & Orchestra
Tickets $250
Tickets: 416.239.8561 ballof8@rogers.com
The Great Ball of Eights is a black tie affair that celebrates the successes of Czechs and Slovaks here in Canada and doubles as a fund raiser for The SickKids Foundation.
The evening includes dinner, a silent auction and music by George Grossman followed by dancing to the big band sounds of Kevin Clark & His Orchestra.
DARREN SIGESMUND QUINTET
Thursday February 21
showtime @ 9pm sharp
HUGH'S ROOM
2261 Dundas Street West 416.531.6604
Tickets $12 adv. / $14 door / Students 2 for $12!
hughsroom.com | darrensigesmund.com
Trombonist and composer Darren Sigesmund presents his debut CD STRANDS at Hugh's Room, as part of his quintet's 3-week national tour which is sponsored by the Canada Council for the Arts.
Sigesmund has showcased Strands across Canada, Asia and Australia. His band consists of Quinsin Nachoff (tenor sax) Reg Scwager (guitar), Jim Vivian (bass) and Anthony Michelli (drums).
MacHomer
Friday February 22
Two shows @ 7pm and 9:30pm
MASSEY HALL
Tickets $29.50 - $34.50 masseyhall.com
Comic genius Rick Miller's one-man vocal spectacular features impressions of over 50 voices from TV's The Simpsons in a hilarious performance of Shakespeare's Macbeth! With a script which remains 85% Shakespeare, MacHomer will leave you "exhausted with laughter" ~ Pittsburgh Post Gazette.
SATURDAY NIGHT SWING
Various Bands / Saturdays
7pm and 8pm dance classes
9pm-1am live band and more dancing!
DOVERCOURT HOUSE
805 Dovercourt Road (just North of Bloor)
swingtoronto.com
$13 - $18
Every Saturday night, Dovercourt House comes alive with the kind of friendly folk one doesn't immediately associate with a big city: Where you might find a seventy year old man lindy hopping with a visiting professional swing dancer from Sweden. The vibe is cozy; the whole thing, surreal - like something from your childhood. And the drink prices beckon back to the day too! Always a great live swing band from 9pm on!
CIARA ADAMS
CD Release Party - Last of the Bohemians
Thursday February 28 @ 8:00pm
$10 cover (or $20 with the new CD)
Lula Lounge
1585 Dundas St. W., (west of Dufferin St.) Toronto, ON
416 588 0307 lula.ca
With special Guests: Grand Analog & DJ Catalist
Ciara Adams is a charismatic and versatile performer. Her background in opera, theatre, and cabaret, and her undeniable soul for jazz combine to create the delectably original style of this singer/songwriter. "Last of the Bohemians" features performances by a number of prominent Canadian musicians including Davide Direnzo, Mike Janzen, Marc Rogers, Arthur Kerekes (GMMF), Alexis Baro, Tim Abraham, and beats by Alister Johnson.
Don't miss this gifted performer and her exceptional band.