BULLHORN e-NEWS
January 2008
Hey :
Prepare yourself for 2008: The Year of The Piano!
HAPPY FINGERS: A TRIBUTE TO THE PIANO
Sponsored by Wild Horse Canyon wines and Remenyi House of Music
Featuring Brian Dickinson, Gene DiNovi, Thompson Egbo Egbo, Steve Koven, Joe Sealy and John Sherwood
Sunday January 20, 2:00pm.
Diesel Playhouse - 56 Blue Jays Way
Tickets are $20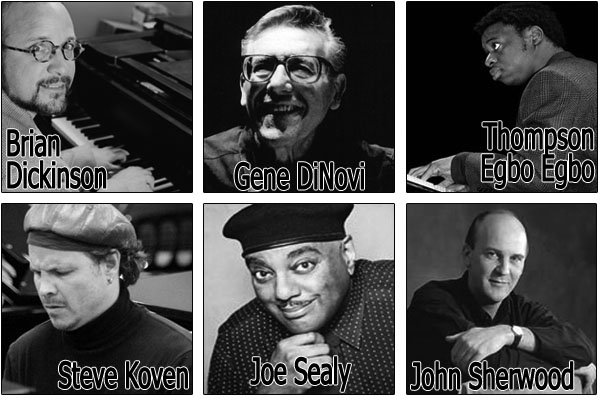 For tickets and more info: www.dieselplayhouse.com
To order tickets by phone: 416.971.5656 or toll free 1.877.971.5656
Six renowned pianists will explore jazz standards and original improvisations, performing as soloists and in duets. The emcee for the show is its creator, JAZZ.FM91 radio host and producer Jaymz Bee.
In August of 2004, Jaymz Bee produced the first version of "Happy Fingers: A Tribute to the Piano" to a sold out Mod Club Theatre at $100 per ticket. Now, thanks to the size of the main stage at Diesel Playhouse, the same type of show can be enjoyed for a mere $20 (plus service charges).
January 20th also acts as an unofficial CD release party for "One Lucky Piano", a CD tribute to The Montreal Bistro grand piano that features 17 local pianists as well as the final recording of the late, great, ragtime legend John Arpin. All profits from "One Lucky Piano" are used by JAZZ.FM91 for scholarships and bursaries, to support emerging musicians. The CD is in stores now, is available by mail at www.jazz.fm and will be available at the concert.
All shows are at 2pm and are all age events. The venue is licensed and a snack menu is available. Due to the nature of the music business, pianists may be substituted.
The line-up includes the following Sundays;
January 20, February 17, March 9 2008 and April 13 2008 @ 2pm
January 20
STEVE KOVEN - www.stevecoven.com
THOMPSON EGBO EGBO - www.myspace.com
BRIAN DICKINSON - www.briandickinsonjazz.com
GENE DiNOVI - www.allaboutjazz.com
JOE SEALY - www.joesealy.com
JOHN SHERWOOD - www.johnsherwood.ca
THE TIMELY MANOR SUNDAY JAZZ SERIES
Roger Clown is one of the stars of Murder in The Cabaret Burlesque, a cabaret musical comedy written by Jaymz Bee and Waylen Miki, March 9th at Diesel Playhouse.
Sponsored by Wild Horse Canyon wines and Remenyi House of Music
DIESEL PLAYHOUSE - 56 Blue Jays Way, Toronto
Tickets $20 (plus service charges)
All shows at 8:00pm
Get your tickets now - good seats still available! www.dieselplayhouse.com
February 17
KEVIN CLARK & THE SKINNY DIPPERS
March 9
MURDER AT THE CABARET BURLESQUE - an original musical comedy
April 13
KENNY RANKIN LIVE IN CONCERT (tickets are selling fast for this!)

Please note that The Shuffle Demons show booked for January 20th has been postponed. A new date will be announced next month.
JAZZOETRY
Wednesday January 16 @ 8:00pm - Midnight
Liberty Bistro
25 Liberty Street
416.533.8828
NO COVER
Jazz and Poetry…hosted by Dale Percy and featuring at least half a dozen uplifting, clever poets reading original work. No ranting and whining at this jazz and poetry night!
Music at 8; reading at 8:30. Bring an appetite - they have great food and full bar service!
CIARA ADAMS
CD Release Party - Last of the Bohemians
Thursday February 28 @ 8:00pm
$10 cover (or $20 with the new CD)
Lula Lounge
1585 Dundas St. W., (west of Dufferin St.) Toronto, ON
416 588 0307 www.lula.ca
With special Guests: Grand Analog & DJ Catalist
Ciara Adams is a charismatic and versatile performer. Her background in opera, theatre, and cabaret, and her undeniable soul for jazz combine to create the delectably original style of this singer/songwriter. "Last of the Bohemians" features performances by a number of prominent Canadian musicians including Davide Direnzo, Mike Janzen, Marc Rogers, Arthur Kerekes (GMMF), Alexis Baro, Tim Abraham, and beats by Alister Johnson.
Don't miss this gifted performer and her exceptional band.
ONE RYTHM ONE WORLD
A fundraising event for a youth program in Colombia
Wednesday January 30 2008 @ 7:30pm
Mango Coco
1355 St. Clair W. 2nd floor (at Lansdowne)
Toronto, ON
A fundraising event for a youth program in Colombia. All proceeds go towards "Moving Forward / Hacia Adelante": a holistically-based program focusing on trauma integration and empowerment of former child soldiers and internally displaced youth in Bogotá, Colombia. Dance workshops -- learn to dance salsa, samba, tango, afro-cuban and capoiera! After all that dancing -- treat yourself with a 30-minute shiatsu treatment for only $25!
www.facebook.com | movingforwardproject.blogspot.com
MAKE YOUR EVENT PLANNING EASY
Bullhorn represents musicans and other entertainers that are certain to make your party or event a speical one.
From a small trio to a big band, mentalists to magicians... we are happy to help you make your event a big success.
We have hosts and entertainment available for private parties, corporate functions and charity events. (Sorry, but we are not accepting submissions to represent new acts at this time.)