BULLHORN e-NEWS
December 2007
Hey :
Prepare yourself for 2008: The Year of The Piano!
The CONSTANCE MARGARET CHRISTMAS BALL
Featuring Tory Cassis and the Saturday Night Function
"A Classic Swing Dance" To Benefit FoodShare's Good Food for Life Program
Sunday December 9th @ 7pm
Palais Royale
1601 Lakeshore Boulevard East
$30 per ticket or $50 per pair
To order tickets go to Maple Music www.maplemusic.com
For more information visit www.cmcball.com
To donate to FoodShare www.foodshare.net
The CONSTANCE MARGARET CHRISTMAS BALL is the perfect opportunity to get into the swing of the holidays and dance to an all-star nine-piece band in one of Toronto's original art deco dance halls, the Palais Royale.
The charity ball marks its 7th year in honour of Tory's mother, Constance Margaret, who passed away after battling cancer. Reaching out to the community and connecting through food -- especially during the holiday season -- was a priority for Constance Margaret and something Tory shares with his friends and musicians alike.
Tory Cassis, an accomplished musician and Juno nominee, will be joined by many of Canada's finest musicians: Tyler Yarema (keyboards), Jesse Barksdale (guitar) Mark Mariash (drums), Mike Carson (bass), William Sperandei (trumpet), William Carn (trombone), Richard Underhill (saxophone), Scott Neilson (saxophone) and special guest vocalist Janice Hagan.
There will be a FREE dance lesson hosted by Jessica Jenkins at 7pm.
All proceeds for the event will be donated to the FoodShare Good Food for Life program.
THE TIMELY MANOR SUNDAY JAZZ SERIES
AT DIESEL PLAYHOUSE MAIN STAGE
What do The Shuffle Demons, Kevin Clark, Kenny Rankin, a Cabaret Musical and 24 piano players all have in common?
They are all a part of:
The Timely Manor Sunday Jazz Series at Diesel Playhouse Main Stage
56 Blue Jays Way, Toronto
ALL SHOWS $20 each
(except Kenny Rankin @$30 each)
plus service charges
Sponsored by Wild Horse Canyon Wines
Seating is numbered and preferred seating goes to early purchasers!
TICKETS GO ON SALE MONDAY DECEMBER 10, 2007 at 10am
Tickets at: www.dieselplayhouse.com
Call: 416.971.5656 or Toll Free 1.877.971.5656
Four Sundays of Piano Matinees and Four Evening Jazz Extravaganzas!
Sunday January 20 @ 2pm
Happy Fingers: A Tribute to the Piano (six renowned pianists!)
Featuring: Robi Botos, Brian Dickinson, Gene DiNovi, Steve Koven, Joe Sealy and John Sherwood.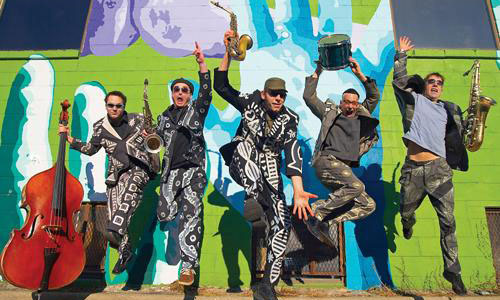 Sunday January 20 @ 8pm
The Shuffle Demons Live in Concert!
Sunday February 17 @ 2pm
Happy Fingers: A Tribute to the Piano (six renowned pianists!)
Featuring: Gord Sheard, Mark Eisenman, Bernie Senensky. Ken Skinner, Nancy Walker and David Restivo
Sunday February 17 @ 8pm
Kevin Clark & The Skinny Dippers: From New Orleans to Toronto.
(*Although currently based in the U.S., Kevin celebrates becoming a Canadian citizen with a rare concert!)
Sunday March 9 @ 2pm
Happy Fingers: A Tribute to the Piano (six renowned pianists!)
Featuring: Norman Amadio, David Braid, Bill King, Tania Gill, Ron Davis and Marilyn Lerner
Sunday March 9 @ 2pm
Murder In The Cabaret Burlesque
A cabaret musical comedy starring Lyne Tremblay, Bryce Kulak, Big Rude Jake, and more... written by Jaymz Bee & Waylen Miki.
Sunday April 13 @ 2pm
(*This event is also Jaymz Bee's Birthday Bash: Surprise Guest Vocalists!)
Happy Fingers: A Tribute to the Piano (six renowned pianists!)
Featuring: Elizabeth Shepherd, Waylen Miki, Adrean Farrugia, Adam Makowicz, Dave Matheson and Robert Scott
Sunday April 13 @ 8pm
An Evening with Kenny Rankin: American Jazz Balladeer ($30)
MARTINI BAR - PANTAGES HOTEL

Every Friday and Saturday - Live Piano at Pantages
No Cover!
Pantages Martini Bar - 200 Victoria Street
416.262.1777
Every Friday Night Robert Scott performs solo piano from 8 to midnight. He is joined at 10pm by one-of-a-kind percussionist Great Bob Scott.
Saturdays feature various local heroes of the piano.
December 1 - Bernie Senensky
December 8 - John Sherwood
December 15 - Waylen Miki
December 22 - Norman Amadio
December 29 - Steve Koven
New Years Eve at Pantages (live music 8-12, DJ 12-3am)
December 31 - Pianists Waylen Miki & Robert Scott, singers Lyne Tremblay and Roger Clown and percussionist Great Bob Scott.
ONE LUCKY PIANO
One Lucky Piano. Artwork by Kurt Swinghammer
In stores across Canada on January 15th 2008
Available NOW at www.jazz.fm
One Lucky Piano pays tribute to a Yamaha grand piano that resided at The Montreal Bistro for over twenty years. When the club closed, Jaymz Bee asked local pianists to come record one last song of their choosing. All money raised from this CD goes directly to JAZZ.FM91, who, in turn use it for bursaries and scholarships for emerging jazz artists.
This recording features seventeen of Canada's best solo jazz pianists, from world renowned Gene DiNovi and Adam Makowicz, to Canadian legends Norman Amadio and Nancy Walker. Whether it is a beautiful ballad by rising star Thompson Egbo Egbo or a mind altering romp by Michael Kaeshammer, this CD is sure to impress any piano aficionado. It also contains one of the final recordings of the late, great John Arpin.
JAZZ.FM91 presents The Jazz Safari™
A Jazz Safari is an incentive created by Jaymz Bee for JAZZ.FM91. For a donation of $500 to JAZZ.FM91 you and a guest will experience a unique night on the town.
Join JAZZ.FM91 host Jaymz Bee on The Magic Bus for a tour of 4 or 5 of this city's best jazz venues. Meet your favourite jazz musicians in their natural habitat, the jazz club.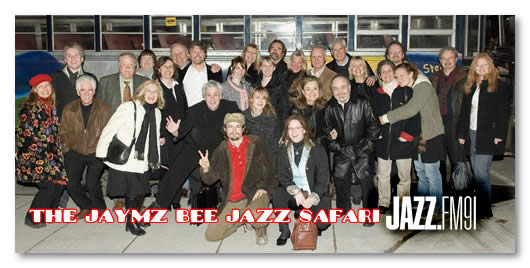 Gang on the magic bus!! Photo courtesy of Dave Deacon
JAZZ.FM91 will be responsible for transportation to each club and the cover at each club. Safari guests are responsible for any food and beverages purchased while on safari. The Magic Bus will pick guests up from a pre-determined location and return them to that location at the end of the night.
If you would like to book a hotel room, guests are offered a special rate at the Pantages Hotel on the night of their safari. For information go to www.jazz.fm
MAKE YOUR EVENT PLANNING EASY
Bullhorn represents musicans and other entertainers that are certain to make your party or event a speical one.
From a small trio to a big band, mentalists to magicians... we are happy to help you make your event a big success.
We have hosts and entertainment available for private parties, corporate functions and charity events. (Sorry, but we are not accepting submissions to represent new acts at this time.)