BULLHORN e-NEWS
October 2007
Hey :
October is a fantastic month for jazz music and CD launches.
WILLIAM CARN LIVE IN CONCERT
THURSDAY OCTOBER 4 @ 9:30pm
A CD Release Party for "Lessons Learned" on Timely Manor / Fontana North
The Rex Hotel
194 Queen St. West 416.598.2475 (no reservations)
$7 at the door
Juno-nominated trombonist, leader, composer and teacher William Carn is considered to be one of the best jazz trombonists in Canada. This show kicks off the bands 12 city national tour, funded by the Canada Council for the Arts. Lessons Learned is a modern, melodic, rhythmic album which features nine original compositions by William Carn. The William Carn Quintet features five of the most exciting musicians in the Canadian jazz scene today, each of whom bring a wealth of experience to the modern jazz landscape. The William Carn Quintet is: William Carn (trombone), Kelly Jefferson (saxophones), David Braid (piano), Kieran Overs (bass), Anthony Michelli (drums).
"William Carn is a charter member of the impressive new generation of players that is making an impact."
~ Geoff Chapman, Toronto Star
NANCY WALKER TRIO LIVE
THURSDAY OCTOBER 11 @ 9:30pm
A CD Release Party for "Need Another" on Timely Manor / Fontana North
The Rex Hotel
194 Queen St. West 416.598.2475 (no reservations)
$6 at the door
Juno-nominated pianist, leader and composer NANCY WALKER is respected nationally. Winner of the Montréal International Jazz Festival's prestigious Grand Prix de Jazz, and a JUNO and multiple National Jazz Awards nominee, Nancy is recognized as one of Canada's premier jazz talents. She has already produced several critically acclaimed albums: Invitation (1997), Luminosity (2000), Levitation (2003) and When She Dreams (Justin Time, 2004). In 2006 she received a JUNO nomination for her easy-listening disc Rainy Days and Mondays (Somerset/Universal).
"She's a commanding presence at the piano. Her solos are strong and personal, and she's a wonderful accompanist."
~ Ted O'Reilly, Whole Note Magazine
The album "Need Another" is the fifth jazz recording from Nancy Walker and features nine tracks, seven of which are her own original compositions. It's a modern piano trio disc that comes right out of her classic influences, yet is totally her own, shifting from funky to moody to swinging and back again. Nancy's band-mates on the disc are bassist Kieran Overs and drummer Ethan Ardelli.
THE PANTAGES SUITES, HOTEL & SPA LOBBY BAR

Martinis, Finger Food and Jazz
Every Friday and Saturday Night 8pm – 12midnight
No Cover!
200 Victoria Street
416.262.1777
Enjoy great jazz at Pantages every Friday Night with Robert Scott on piano and Great Bob Scott on drums and percussion…think Liberace meets Spike Jones!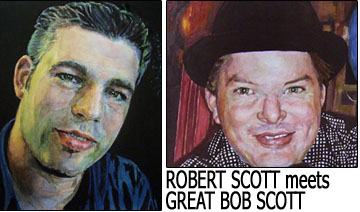 Saturday nights a different solo pianist is featured:
- Bernie Senensky (Oct. 6)
- Nancy Walker (Oct. 13)
- Richard Whiteman (Oct. 20)
- Waylen Miki (Oct. 27)
CONTACT PANTAGES NOW TO RESERVE ROOMS FOR NEW YEARS EVE.
Jaymz Bee will be hosting a party featuring Waylen Miki & Robert Scott
MORE INFORMATION ON THIS NEXT MONTH!
JAZZOETRY
Wednesday October 24th 8pm - Midnight
Liberty Bistro
25 Liberty Street
416.533.8828
NO COVER
Jazz and Poetry... hosted by Jaymz Bee and featuring pianist Robert Scott and poets Dale Percy, Blue Angel and some special surprise guest poets.
Dick Hyman has done soundtracks for most Woody Allen films and has recorded hundreds of albums!
THE JAZZ.FM91 SOUND OF JAZZ CONCERT SERIES
The Old Mill Inn
21 Old Mill Road
www.jazz.fm (to buy tickets on-line)
416.236.2641 (for dinner reservations only, no tix)
This series gets better every year! The first three shows are already sold out so don't put this off…concerts by Bucky Pizzarelli and Dick Hyman are coming up, as well as tributes to jazz greats such as Billy Strayhorn, Johnny Hodges, Peggy Lee and more.
Tickets are between $23 and $30... the show will be broadcast at a later date on 91.1FM and www.jazz.fm
MAKE YOUR EVENT PLANNING EASY
Bullhorn represents musicans and other entertainers that are certain to make your party or event a speical one.
From a small trio to a big band, mentalists to magicians... we are happy to help you make your event a big success.
We have hosts and entertainment available for private parties, corporate functions and charity events. (Sorry, but we are not accepting submissions to represent new acts at this time.)