BULLHORN e-NEWS
April 2007
Hey :
APRIL is JAZZ MONTH
MONKEY TOAST
(The Improv Talk Show: With Special Guest JAYMZ BEE)
Sunday April 8 @ 8pm
The Drake Hotel / 1150 Queen Street East
416.531.5042 www.thedrakehotel.com
You've seen various comics from Monkey Toast on The Comedy Network, TV commericals, Second City and comedy clubs everywhere. These are some of the finest Improvisational Comedians in the country, who base their skits on stories culled from a one-on-one interview from David Shore with Jaymz Bee. Prepare to laugh - you are gauranteed at least one skit that features the Easter Bunny!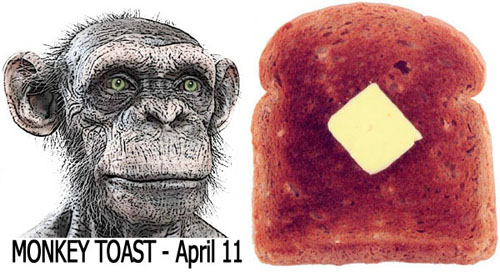 NATIONAL JAZZ AWARDS
Tuesday April 10 @ 8pm
Palais Royale Ballroom
1601 Lakeshore Blvd
Toronto
Tickets $75
(dinners separate: please see website for info)
www.nationaljazzawards.com
This is much more than an Award Show... it's an incredible party and live concert featuring some of the countries finest. Bill King and his team have put together the best line up ever! Oliver Jones, Hugh Fraser, Jim Galloway, Peter Appleyard, Holly Cole, PJ Perry, Guido Basso and more. The emcees are nonother than David Clayton Thomas and Dione Taylor.
Holly Cole has a great new CD and will appear at The National Jazz Awards
Jaymz Bee's 44th BIRTHDAY BASH
APRIL 13 9pm-2am
1214 Queen Street West
416.531.4635
Jaymz Bee celebrates his 44th year on the planet with a great big party and concert featuring his many friends in the biz. You can expect hipsters from 19 to 90 at this unique event.
Concert Only
Tickets are $20 and available at the door only...doors at 9, concert at 10.
(There is a free Karaoke bar next door if you want to come earlier for some "irritainment"!)
Dinner and Concert
You will need reservations as there is only room for 50. Dinner for two, a bottle of wine and the cover charge will run you about $100. Contact The Gladstone directly to make dinner reservations:
416.531.4635 Ext. 7112
(Please make them aware you are attending the Jaymz Bee Birthday Bash)
Hotel Suites
Only 15 rooms are left at the time this email is going out!
Call the hotel directly to book a one-of-a-kind suite. Rates are $175-$375 a night. Check out the sweet suites at: www.gladstonehotel.com
Please make your reservations (dinner and hotel room reservations are separate) by calling 416.531.4635.
*** Please Note
On Saturday, April 14, there will be some live jazz for anyone interested in brunch. No reservations…just show up at The Gladstone between 10am – Noon. It is a free show and ordering food is ala carte. (Guaranteed seating for hotel guests)
If you want to send Jaymz birthday greeting he can be contacted at: jaymzbee@jazz.fm
PANTAGES HOTEL PIANO SERIES
Every Saturday Night 8pm-12midnight
Pantages Hotel / 200 Victoria Street
Free!
The quiet cocktail bar in the lobby now features solo piano on Saturdays. (Also jazz duos on Friday nights) It's a great place for a pit stop, to start your night or book a room and spoil yourself with a spa visit. This month features Robert Scott, David Restivo and Ashley Wey. Please contact the hotel for details.
Ashley Wey is one of the brilliant jazz pianist who tickle the ivories of the Yamaha baby grand at Pantages Hotel.

Tuesday Night Jazz @ LULA LOUNGE
Presented by Jaymz Bee and The Robert Mondavi Jazz Series
Tuesday April 24 Doors @ 7pm / Show @ 8:30
1585 Dundas Street West
416.588.0307
The legendary Shuffle Demons finish off the Robert Mondavi Jazz Series at Lula Lounge. It is a rare treat to see this band live, so make dinner reservations NOW by contacting Lula Lounge directly. Dinner seating will sell out - but SRO tix are available for $10 at the door.
Shuffle Demons have a live show that is equal parts groovy, heavy, wild and fun!
JAZZ LIVES (3)
Thursday May 3 @ 8pm
Convocation Hall
31 King's College Circle (U of T)
Tickets $25, $45 and $55
The biggest concert of the year for JAZZ.FM91, a not-for-profit radio station based in Toronto. This is JAZZ LIVES' third consecutive year and it will no doubt sell out (1500 tickets) once again with a roster that includes: Pat Labarbara, Adam Makowicz, Kevin Clark, Kenny Rankin, Emilie Claire Barlow, Kurt Elling, Jeff Healy, Amanda Martinez and more! Music Director is Roberto Occhipinti.
Already, most of the $55 tickets are gone, so don't delay!
Kudos to the presenting sponsor: Don Valley North Lexus and to other sponsors that include: Northwest Mutual Funds, Hakim Optical, Robert Lowery's Piano Experts and 2001 Audio Video.
Kurt Elling is one of the finest jazz singers on the planet!.
MAKE YOUR EVENT PLANNING EASY
Bullhorn represents musicans and other entertainers that are certain to make your party or event a speical one.
From a small trio to a big band, mentalists to magicians... we are happy to help you make your event a big success.
We have hosts and entertainment available for private parties, corporate functions and charity events. (Sorry, but we are not accepting submissions to represent new acts at this time.)