BULLHORN e-NEWS
March 2007
Hey :
Please join us for these fantastic jazz perfomances.
Tuesday Night Jazz @ LULA LOUNGE
Presented by Jaymz Bee and The Robert Mondavi Jazz Series
1585 Dundas Street West
416.588.0307
Doors at 7pm / Show at 8:30
Only four Tuesdays left in this series... call to make dinner reservations or just show up at the door for the concerts. All shows are $10 at the door.
TONIGHT: March 20 Terra Hazelton (vintage jazz with timeless charm)
MARCH 27: George Evans (pitch perfect standards by a master crooner)
APRIL 3: Mike Cado and Nimmons 'N' Nine... Now! (Phil Nimmons charts…he may not be in the band, but any chance to hear his music cannot be missed!)
APRIL 10: Word Jazz featuring Don Francks, Reiner Schwarz, Blue Angel, etc! (groovy!)
APRIL 24: The Shuffle Demons (a rare appearance by Canada's leading "Streetnicks")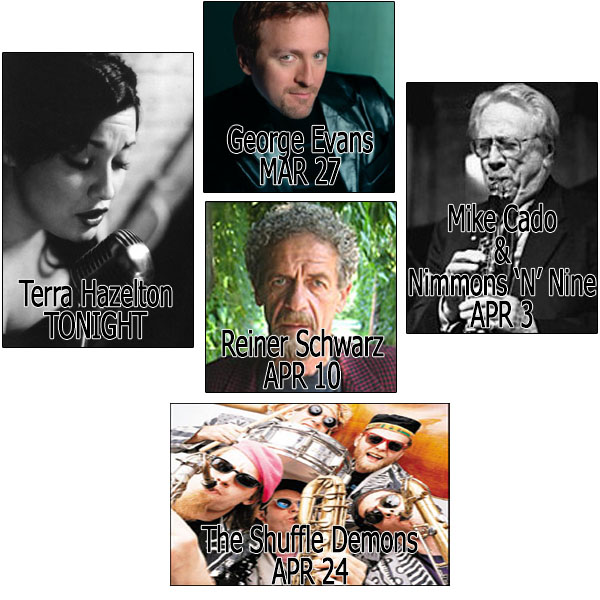 Jaymz Bee's 44th BIRTHDAY BASH
1214 Queen Street West
416.531.4635
APRIL 13 9pm-2am
Jaymz Bee celebrates his 44th year on the planet with a great big party and concert featuring his many friends in the biz. You can expect hipsters from 19 to 90 at this unique event.
Concert Only
Tickets are $20 and available at the door only...doors at 9, concert at 10.
(There is a free Karaoke bar next door if you want to come earlier for some "irritainment"!)
Dinner and Concert
You will need reservations as there is only room for 50. Dinner for two, a bottle of wine and the cover charge will run you about $100. Contact The Gladstone directly to make dinner reservations:
416.531.4635 Ext. 7112
(Please make them aware you are attending the Jaymz Bee Birthday Bash)
Hotel Suites
Only 15 rooms are left at the time this email is going out!
Call the hotel directly to book a one-of-a-kind suite. Rates are $175-$375 a night. Check out the sweet suites at: www.gladstonehotel.com
Please make your reservations (dinner and hotel room reservations are separate) by calling 416.531.4635.
*** Please Note
On Saturday, April 14, there will be some live jazz for anyone interested in brunch. No reservations…just show up at The Gladstone between 10am – Noon. It is a free show and ordering food is ala carte. (Guaranteed seating for hotel guests)
If you want to send Jaymz birthday greeting he can be contacted at: jaymzbee@jazz.fm
DK Nominated for Male Vocalist of the Year at the NATIONAL JAZZ AWARDS
APRIL 10
National Jazz Awards
Palais Royale Ballroom
1601 Lakeshore Blvd
Toronto
At six foot seven, DK Ibomeka has a towering stage presence and a voice to match. Musicians and industry insiders are calling DK Ibomeka one of the best new voices in years. His debut CD "Love Stories" is in stores now and presents a mix of classic jazz sounds combined with a touch of blues and a distinct flavouring of soul. DK is currently touring Europe with a new series of shows scheduled for late March and mid May. DK will be performing with the DIVA Jazz Orchestra for seven shows over this period, plus he will be making his Paris debut backed by his own quartet at the "Jazz Club Lionel Hampton". His next CD is in pre-production for release late 2007 or early 2008.
The National Jazz Awards will take place on Tuesday April 10, 2007. Voting for the National Jazz Awards closes on March 25th. The National Jazz Awards winners, chosen by the public via a national on-line voting system will be honoured at an exclusive gala taking place at Toronto's Palais Royale. Hosted by songstress extraordinaire Dione Taylor and Canadian Music Hall of Fame inductee David Clayton Thomas, this year's theme will be Giants of Canadian Jazz and will be celebrated via a host of activities and entertainment.
National Jazz Awards website: www.nationaljazzawards.com
For more information about DK and even more upcoming shows please visit: www.dkibomeka.com
MONKEY TOAST
(THE IMPROV TALK SHOW)
1150 Queen Street West
416.531.5042
MARCH 25 – Big Rude Jake
APRIL 8 – Jaymz Bee
Enjoy Canada's most popular evening of Improv…the award winning comedy combo Monkey Toast consists of Second City Alumni and comics you've seen on television shows and commercials for years. It's an improvised talk show that features an interview, followed by sketches based on stories from their special guest. Past guests have included: Ross Porter, Mayor David Miller, Sean Cullen, Avril Benoit and Nash The Slash. The host/ interviewer for Monkey Toast is David Shore.
SCRABBLE WITH THE STARS
St. Lawrence Hall
151 King Street East
MONDAY MARCH 26
Dave Broadfoot, Jeff Healey, Jayne Eastwood, Jaymz Bee, R.H. Thomson and many other Canadian celebrities play scrabble in this benefit for the Performing Arts Lodge, a not-for-profit residence for actors, writers and other arts professional. Each table of four gets its own star. Peter Kent hosts. Individual tickets are $75 call 416.777.9674 for more info.
MAKE YOUR EVENT PLANNING EASY
Bullhorn represents musicans and other entertainers that are certain to make your party or event a speical one.
From a small trio to a big band, mentalists to magicians... we are happy to help you make your event a big success.
We have hosts and entertainment available for private parties, corporate functions and charity events. (Sorry, but we are not accepting submissions to represent new acts at this time.)