BULLHORN e-NEWS June/July 2006
Hello !
June is an incredible month for live entertainment!!!
DK IBOMEKA - DEBUT CD LAUNCH "LOVE STORIES"
WEDNESDAY JUNE 14
*** One Night Only ***
Hugh's Room
2261 Dundas Street West, Toronto
8:30 pm Tickets: $20 in advance, $22 at the door
At six foot seven, DK Ibomeka has a towering stage presence and a voice to match. Musicians and industry insiders are calling DK Ibomeka one of the best new voices in years, with a three-octave range informed by the clarity and vibrancy of Ella Fitzgerald, the soulfulness of Ray Charles, and the deep, rich bass of Joe Williams. DK Ibomeka's band new debut CD "Love Stories" (in stores now), presents a mix of classic jazz sounds combined with a touch of blues and a distinct flavouring of soul.
For more information about DK and even more upcoming shows please visit: www.dkibomeka.com
THURSDAYS AT STONES PLACE
*** Stones Place Thursdays are sponsored by WOODBRIDGE WINES from Robert Mondavi... available at the club... yum!
The Stones Place has long been a venue for rock music, DJ's and private parties. This is the first time that the club has had LIVE JAZZ! Jerry Stone's Parkdale party palace is the perfect venue for Jaymz Bee events, as the room is spacious, cozy and timeless. These jazz nights bring out musicians, agents, models, barflies and even Mayor David Miller stayed for over three hours recently and remarked how magic the room is. Jaymz will host and book bands every Thursday at Stone's Place and the cover is always a mere $5. Doors at 8PM.
MARK YOUR CALENDARS - $5 at the door
Stones Place
1255 Queen Street West (416) 536-4242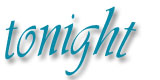 Thursday June 8
THREE REDHEADS AND A PIANO
featuring Serafin, Sonya Cote, Julie Michels and Robi Botos on piano
Thursday June 15
BABES IN JAZZ LAND DEBUT CD RELEASE
Jaymz Bee releases the highly anticipated BABES IN JAZZ LAND album with his new label Timely Manor. Featuring 11 of Toronto's most talented young females including singers; Genevieve, Marieve Herington, Sophia Perlman, Janelle Monique and Elizabeth Shepherd, musicians; Ashley Wey (piano and organ), Lauren Falls (bass), Jasmine Jones (drums and percussion), Christine Bougie (electric guitar, steel guitar) Amy Medvick (flute), and Shelka Francis (alto sax).


"Working with these talented young women is pure bliss. They are as talented as they are beautiful, which says a lot, and they are quickly becoming great friends. It's a "Diva-Free" band... no clashing egos or catfights... in fact I can say without exaggeration that I've never seen more excitement in a rehearsal, in the studio or on stage then when these gals kick out the jazz."
~ Jaymz Bee
photos by Chris Frampton
Media Contact: Catherine Fawcett. Cat*PR Media & Public Relations
online www.catpr.ca email cat@catpr.ca phone 647.895.4310
Thursday June 22
THE LAUNCH PAD
This is a very relaxed jazz jam and open mic, hosted by Jaymz Bee with Waylen Miki (piano) Brandi Disterheft (bass) Great Bob Scott (drums) and many special guests.
Thursday June 29
NASH THE SLASH Live
The man in the bandages is being secretive of what he plans to do on this night. We hope he'll do some songs from View From The Gallery (featuring art from surrealist painter Robert Vanderhorst) and some of his old hits. But it would be pure folly to guess what he has in store for us all...
Thursday July 6
WORD JAZZ
with DON FRANCKS and special guests
Don Francks hosts a night of poetry and word jazz. Last month was pure magic…don't miss this next one. It was Anyone can have two minutes of fame!
Thursday July 13
3 Redheads, 1 Piano
Torch songs, cabaret, jazz, gospel…who knows what you'll hear from our three featured Redheads. This week stars Serafin, Lyne Tremblay and Julie Michels, with Waylen Miki on piano.
Thursday July 20
BABES IN JAZZ LAND
The 10 piece all female jazz ensemble return to try out some new material and perform a few faves from their debut CD.
Thursday July 27
THE LAUNCH PAD
Thursday August 3
WORD JAZZ
with DON FRANCKS and special guests
Thursday August 10
THREE REDHEADS AND A PIANO
Thursday August 17
BABES IN JAZZLAND
Thursday August 24
THE LAUNCH PAD
Thursday August 31
One night only!
BROWNMAN ELECTRYC TRIO
SARSical
Running until June 18th
The Musical about a real showstopper
FACTORY THEATRE
125 Bathurst Street (at Adelaide)
Shows at 8pm / Sat and Sun Matinees 2:30pm (Sun PWYC)
Admission ($23-$28)
Box Office: 416.504.9971
GOLD RIBBON JAZZ CRUISE
Monday July 3
7:30pm - Midnight
Toronto HarbourFront
Join Emcee Jaymz Bee of JAZZ FM for a night to remember. Board the Mississipi river boat, the River Gambler and cruise the Toronto Islands. Be entertained by the Christopher Plock Trio with Julie Michaels on vocals while enjoying a fabulous dinner. Watch the evening sky light up with fireworks from Ontario Place.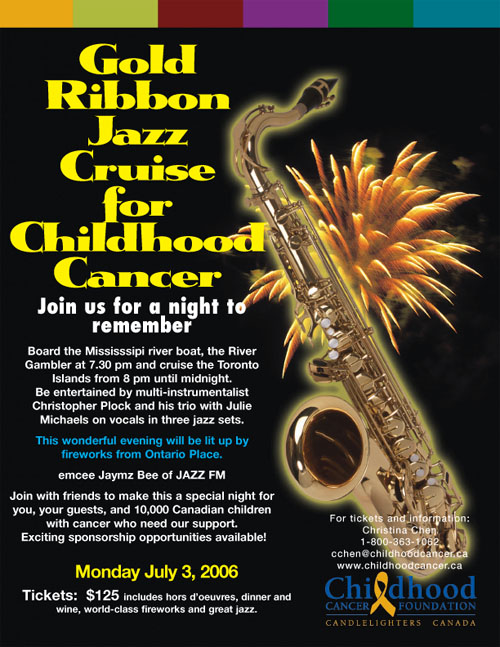 40TH ANNIVERSARY CHIN INTERNATIONAL PICNIC
Canada Day Weekend – July 1-2-3
CHIN Radio proudly announces the 40th Anniversary of the CHIN International Picnic - A Free International Festival of Entertainment for people of all ages.
"Continuing the proud tradition started by my dad, this year we celebrate our 40th Anniversary Picnic, a tradition that has come to signify the true multicultural spirit of Toronto. For three glorious days, CHIN Picnic will once again host International stars from around the world, local artists, musicians and performers all in celebration of our most treasured gifts, our cultural heritage. Come celebrate with us!"
~ Lenny Lombardi, President & CEO of CHIN Radio International
Contact Catherine Fawcett for Details
Cat*PR Media & Public Relations
online www.catpr.ca email cat@catpr.ca phone 647.895.4310
MARKHAM JAZZ FESTIVAL 'The World of Jazz'
Friday August 18 through to Sunday August 20
Known as one of the finest jazz festivals in Ontario, MJF has presented diverse and eclectic jazz performers who are not only drawn from the cream of the crop of Canadian jazz artists, but, come from a wide variety of other countries including the U.S.A. and Cuba. The Festival's repertoire spans a variety of genres, including traditional, swing, Latin, fusion, world, and contemporary jazz. Josh Grossman has been hired as the MJF Artistic Director and promises an exciting line-up with a wide range of diverse, interesting and well-known artists who will present jazz in all its forms.
For details visit www.markhamjazzfestival.com
Contact Catherine Fawcett for Details
Cat*PR Media & Public Relations
online www.catpr.ca email cat@catpr.ca phone 647.895.4310
MAKE YOUR EVENT PLANNING EASY
Bullhorn has a full line-up of some of the best talent in Toronto. From a small trio to a big band, we are happy to help you make your event a big success.
We have hosts and entertainment available for private parties, corporate functions and charity events.