BULLHORN e-NEWS May 2006
Hello !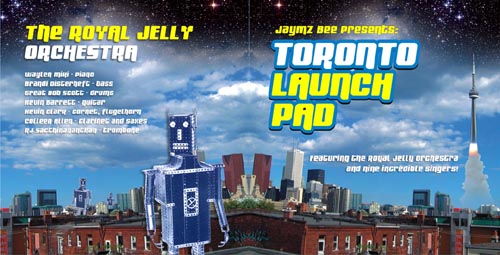 TORONTO LAUNCH PAD CD Release
A new RJO recording and the first of a series of events hosted by Jaymz Bee
Thursday, May 18th 2006
8:00pm
Stone's Place - 1255 Queen Street West
Tix will be $5 at the door, $20 with CD!
Jaymz Bee and the Royal Jelly Orchestra release their highly anticipated TORONTO LAUNCH PAD album! Featuring some of Toronto's finest singers and musicians, TORONTO LAUNCH PAD includes; Elizabeth Shepherd, Genevieve, Julie Michaels, Marieve Herington, Alex Pangman, Michael Danso, Serafin, Lyne Tremblay, Jef Farquharson singing and musicians Walen Miki, Bradi Disterheft, Great Bob Scott, Kevin Clark, Coleen Allen, RJ Sacthinananthan along with guest cameos by Tony Quarrington, William Carn, Richard Underhill and Sarah McElchran. Many of the performers on the CD will perform live at Stone's Place during the CD Release party!

THURSDAY'S AT STONE'S PLACE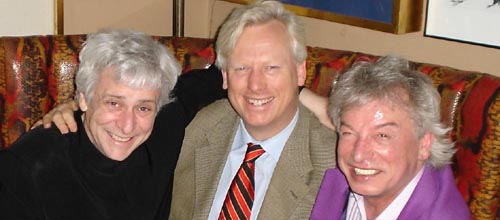 Jaymz Bee – Mayor David Miller - Jerry Stone
Jaymz Bee celebrated his B-day at the Stone's Place and Mayor David Miller dropped by to wish him all the best! Now Bee will spin great music and host rotating live acts including; Babes In Jazzland, Don Francks, Richard Underhill's Alchemy Trio, Nick "Brownman" Ali's Electryc Trio, Serafin, Nash The Slash and more...
MARK YOUR CALENDARS - $5 at the door
Stones Place
1255 Queen Street West (416) 536-4242
Thursday May 25
One night only
THE ALCHEMY SOCIETY
(Rich Underhill NuJazz Trio featuring Great Bob Scott and Lee Hutchison)
Thursday June 1
WORD JAZZ
featuring DON FRANCKS and special guests
(Stevie Vallance, Dawna Wright, Reiner Schwarz and Michael Danso)
Thursday June 8
THREE REDHEADS AND A PIANO
featuring Serafin, Sonya Cote, Julie Michels and Robi Botos on piano
Thursday June 15
BABES IN JAZZLAND DEBUT CD RELEASE


photos by Chris Frampton
Thursday June 22
THE LAUNCH PAD
Thursday June 29
NASH THE SLASH
performs THE TWO ARTISTS SURREALIST SHOW
Thursday July 6
WORD JAZZ
with DON FRANCKS and special guests
Thursday July 13
THREE REDHEADS AND A PIANO
featuring Serafin, Lyne Tremblay and Julie Michels with Waylen Miki on piano
Thursday July 20
BABES IN JAZZLAND
Thursday July 27
THE LAUNCH PAD
Thursday August 3
WORD JAZZ
with DON FRANCKS and special guests
Thursday August 10
THREE REDHEADS AND A PIANO
Thursday August 17
BABES IN JAZZLAND
Thursday August 24
THE LAUNCH PAD
Thursday August 31
One night only!
BROWNMAN ELECTRYC TRIO
40TH ANNIVERSARY CHIN INTERNATIONAL PICNIC
Canada Day Weekend – July 1-2-3
CHIN Radio proudly announces the 40th Anniversary of the CHIN International Picnic - A Free International Festival of Entertainment for people of all ages.
"Our Picnic has grown by leaps and bounds since those first years, and we want very much for you to be a part of our growth. And so we invite the all of you, as we do each and every year, to come on down to Exhibition Place over this Canada Day weekend, join with me, my personal family, and the CHIN family in our annual celebration of differences."
~ The late, great Johnny Lombardi (1997)
Contact Catherine Fawcett For Details
Cat*PR Media & Public Relations
online www.catpr.ca email cat@catpr.ca phone 647.895.4310
1266 Queen West Studio 3
Toronto, ON. M6K 1L3
MAKE YOUR EVENT PLANNING EASY
Bullhorn has a full line-up of some of the best talent in Toronto. From a small trio to a big band, we are happy to help you make your event a big success.
We have hosts and entertainment available for private parties, corporate functions and charity events.