BULLHORN e-NEWS March 2006
Hey !
SERAFIN and BABES IN JAZZLAND
An All Ages Show!
THIS SATURDAY NIGHT, MARCH 18
Doors at 8:00. Show at 9:00
The Opera House / 735 Queen Street East
(416) 466.0313
Serafin has a five octave range and peforms with some of Toronto best-loved jazz musicians. The debut CD has been rereleased with new art, some new remixes and remastered. The CD "2am at The Torch Cafe" will be available at the gig. Check out www.serafin.ca
Babes In Jazzland are a ten piece all female band that are sure to inspire music lovers of all ages. They are top notch students (either currently studying or already graduated) from Colleges and Universities, and are currently finishing their debut CD. They are as talented as they are beautiful, which says a lot.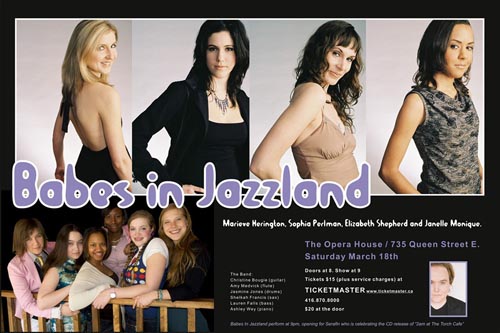 MICHELE MELE
CD release
Wednesday March 22, 2006 9:00pm showtime
The Montreal Bistro / 65 Sherbourne St. (dinner reservations recommended 416.363.0179)
Tickets $10 at the door
Michele Mele performs at The Montreal Bistro with Bernie Senensky (piano) Lou Bartolomucci (guitar), Lew Mele (bass) John Mele (drums) and Bill McBirnie (flute).
HELMUT LIPSKY
Gary Topp presents: Helmut Lipsky and Berlin's L'Art de Passage
Thursday March 23 and Friday March 24
(doors 6, show 8pm)
Lula Lounge 1585 Dundas St. West (dinner reservations recommended) 416.588.0307
Tickets $20 (seating gauranteed with dinner reservation, $39 prix fixe)
The greatest Gypsy Jazz and Tango music you might ever experience live. A truly romantic evening, followed by live salsa later that night with Mora Sextet -- This is a rare Toronto appearance for Lipsky!
LUIS MARIO OCHOA
Luis Mario Ochoa "Cimarron"
Tuesday, March 28th, 2006 9pm showtime
The Montreal Bistro / 65 Sherbourne St. (dinner reservations recommended 416.363.0179)
Tix: $10 at the door
After launching his exceptional new Latin-jazz album Cimarrón, Havana-born Luis Mario Ochoa performed for an intimate crowd at the Montreal Bistro. Luis was recently nominated for Latin Jazz Artist of the Year. The CD is available for listening and purchasing from the artist's website: www.CubanMusicProductions.com as well at www.CDBaby.com. Musicians: Luis Mario Ochoa, Alexis Baro, John Johnson, Jeff King, Russ Little, David Virelles, Paco Luviano, Mario Del Monte, Luis Orbegoso
"Listen for Luis on 680 NEWS this Friday, March 17th"
SUNDAY VOCAL JAZZ SERIES
The Red Guitar / 603 Markham Street Toronto
8pm showtime
Dinner reservations encouraged 416.913.4586
Sunday March 19 - Stevie Vallance and Marieve Herington with Waylen Miki (piano) and Sam Petite (bass)
Sunday March 26 - Lyne Tremblay with Waylen Miki (piano) and Sam Petite (bass)
MAKE YOUR EVENT PLANNING EASY
Bullhorn has a full line-up of some of the best talent in Toronto. From a small trio to a big band, we are happy to help you make your event a big success.
We have hosts and entertainment available for private parties, corporate functions and charity events.