BULLHORN e-NEWS UPDATE March 2006
Hey !

OSCAR PARTY 2006
Hosted By Jaymz Bee
THE PILOT TAVERN (1 block north of Bloor St.)
22 Cumberland Street, Toronto 416.923.5716
Sunday March 5 2006
7:00pm doors / 8:00pm show
Featuring special guest pianists, trivia & prizes, fully licensed, food available.
BOOK NOW - THESE CONCERTS WILL ALL SELL OUT! PLEASE CALL OR EMAIL TO MAKE RESERVATIONS!
LORI CULLEN
Saturday March 11 (8:30) $12 adv. / $14 door
Lori Cullen performs at Hughs Room with David Matheson (keys/guitar) Maury Lafoy (bass) Sarah McElcheran (trumpet) and Kurt Swinghammer (guitar).
Opening act: Sahra Featherstone
SERAFIN: 2am At The Torch Café
CD release
The Opera House / 735 Queen Street East
(416) 466.0313
Saturday March 18th
Doors at 8:00. Show at 9:00
Tickets $15 (plus service charges) at TICKETMASTER www.ticketmaster.ca 416.870.8000
$20 at the door
* This is an all ages event
Serafin performs an ALL AGES SHOW at The Opera House with Waylen Miki (piano) George Koller (bass) Tony Quarrington (guitar) Great Bob Scott (drums) Sarah McEcheran (trumpet) Richard Underhill (sax) and R.J. Satchithananthan (trombone).
Opening act: Babes In Jazzland featuring Ashley Wey (piano) Christine Bougie (guitar) Lauren Falls (bass) Jasmine Jones (drums) Amy Medvick (flute) Shelkah Francis (sax) and vocalists Marieve Herington, Sophia Perlman, Janelle Monique and Elizabeth Shepherd.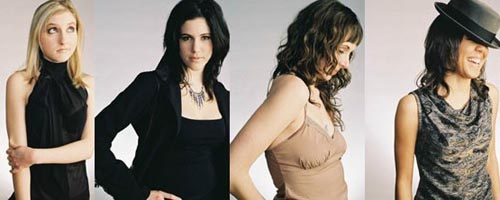 MICHELE MELE
CD release
Wednesday March 22, 2006 9:00pm showtime
The Montreal Bistro / 65 Sherbourne St. (dinner reservations recommended 416.363.0179)
Tickets $10 at the door
Michele Mele performs at The Montreal Bistro with Bernie Senensky (piano) Lou Bartolomucci (guitar), Lew Mele (bass) John Mele (drums) and Bill McBirnie (flute).
SUNDAYS IN MARCH
The Red Guitar / 603 Markham Street Toronto
8pm showtime
Dinner reservations encouraged 416.913.4586
Sunday March 5 - Rita di Ghent with Dave Restivo (piano) and Ross MacIntyre (bass)
Sunday March 12 - Julie Michels with Kevin Barrett (guitar)
Sunday March 19 - Stevie Vallance and Marieve Herington with Waylen Miki (piano) and Sam Petite (bass)
Sunday March 26 - Lyne Tremblay with Waylen Miki (piano) and Sam Petite (bass)
MAKE YOUR EVENT PLANNING EASY
Bullhorn has a full line-up of some of the best talent in Toronto. From a small trio to a big band, we are happy to help you make your event a big success.
We have hosts and entertainment available for private parties, corporate functions and charity events.