BULLHORN e-NEWS February 2006
Hey !
Get out your calendars folks... there are some great events happening in March!
SERAFIN
CD release for "2am At The Torch Café"
The Opera House / 735 Queen Street East
(416) 466.0313
Saturday March 18th
Doors at 8. Show at 9
Tickets $15 (plus service charges) at TICKETMASTER www.ticketmaster.ca 416.870.8000
$20 at the door
* This is an all ages event
SERAFIN: 2am At The Torch Café
Serafin has just been signed to Timely Manor (Fontana North/Universal) and has a new version of his debut recording, featuring art by Jefferson Miles and three bonus remixes by Walter Zweifel and Dave Howard. This CD was created for the European market but will now be available across Canada via Universal distribution and on-line from iTunes. If you have the original pressing, congratulations - you are holding a collectors item! This live concert will feature songs from the CD, performed by The Waylen Miki Septet, featuring George Koller, Tony Quarrington, Great Bob Scott, Sarah McEcheran, Richard Underhill and R.J. Satchithananthan.
Opening act on March 18th at The Opera House (9pm sharp)
BABES IN JAZZLAND
This ten piece all female jazz act just had a sold out show at The Montreal Bistro and are currently recording their debut CD, featuring songs such as "Don't Fear The Reaper", "Dust In The Wind", "Sunshine Superman" and "The Beat Goes On". It will be released in May on Timely Records / Fontana North / Universal Music Canada.
The band features Ashley Wey (piano) Christine Bougie (guitar) Lauren Falls (bass) Jasmine Jones (drums) Amy Melnick (flute) Shelkah Francis (sax) and starring vocalists, (pictured here left to right):
Marieve Herington, Sophia Perlman, Elizabeth Shepherd and Janelle Monique.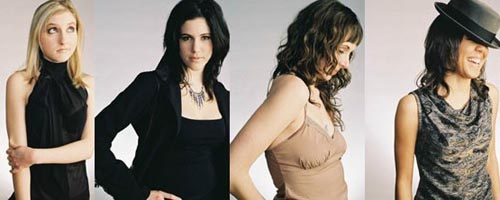 A VIEW FROM THE GALLERY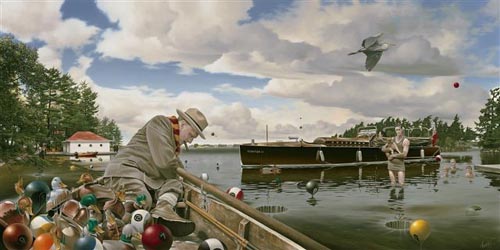 Live performance by Nash The Slash and surrealist paintings by Robert Vanderhorst
Friday March 3 (two shows 9pm and 11pm)
The Gladstone Hotel / 1214 Queen Street West (at Dufferin)
Admission is $10
One Night Only
For more info please visit:
ALEX PANGMAN AND COLONEL TOM PARKER
78rpm Record Release Party
Tuesday, February 28th 2006 (7pm-9pm)
The Cameron Public House / 408 Queen Street West, Toronto
No Cover - 78rpm records sold for $25 each
"Dead Drunk Blues" was written by Tom Parker in New Orleans, recorded in Toronto and pressed in Nashville. All proceeds from the sale of the 78 go to The New Orleans Habitat for Humanity / Musicians Village Project. Colonel Tom and The Swinging Doors recorded one version of "Dead Drunk Blues" while Alex Pangman created her own arrangement, backed by The Royal Jelly Orchestra, featuring Kevin Clark on cornet.
For media inquiries contact:
Colonel Tom 416.703.5949
runmountain@hotmail.com
MICHELE MELE
CD Release for FEEL
Wednesday March 22, 2006 9pm start
The Montreal Bistro / 65 Sherbourne St. (dinner reservations recommended 416.363.0179)
Tickets $10 at the door
Featuring Bernie Senensky, Lou Bartolomucci, Lew Mele, John Mele and Bill McBirnie.
For media inquiries please contact:
Cat@Catpr.ca 647.895.4310
SUNDAY VOCAL JAZZ SERIES
The Red Guitar / 603 Markham Street Toronto
8pm showtime
Dinner reservations encouraged 416.913.4586
Sunday March 5 - Rita di Ghent with David Restivo (piano) and bass dude
Sunday March 12 - Julie Michels with Kevin Barrett (guitar)
Sunday March 19 - Stevie Vallance and Marieve Herington with Waylen Miki (piano) and Sam Petite (bass)
Sunday March 26 - Lyne Tremblay with Waylen Miki (piano) and Sam Petite (bass)
MAKE YOUR EVENT PLANNING EASY Bullhorn has a full line-up of some of the best talent in Toronto. From a small trio to a big band, we are happy to help you make your event a big success. We have hosts and entertainment available for private parties, corporate functions and charity events.