BULLHORN NEWSLETTER December 2005
Hey !
Please take out your calendars and start marking these dates!
Seasonal shindigs, CD releases and a New Years Eve Bash!
LARRA SKYE
CD Release for "The World Disappears"
Tuesday, December 6 - Tomorrow Night - Call Now for Tix!
The Montreal Bistro (65 Sherbourne)
Dinner 7pm Show 9pm call for reservations 416.363.0179
Tickets: $10 at the door / $20 with CD
Young singer/songwriter Larra Skye launches her debut album The World Disappears. Given her prodigious talents, the caliber of musicians who lend their skills to the CD, and the stature of the industry veterans guiding her career, it seems the world has opened up to this talented musician. Larra will be joined by Adrean Farrugia (piano) Jim Vivian (bass) Barry Romberg (drums) and Bob Brough (sax), along with special guest pianist Eric Boucher.
MONKEY TOAST PRESENTS: AN EVENING WITH NELSON THALL
CSI (Comedy Sketch Improv) and Q&A
Sunday, Dec 11th. 8pm. PWYC
The Drake Hotel (The Underground)
1150 Queen St. West
On December 11th, Monkey Toast presents: CONSPIRACY NIGHT!!!
Our special guests for the talk show will be, from www.cloakanddagger.ca, Nelson Thall. This week's performers: Peter Oldring, Lisa Merchant, Jack Mosshammer, Jen Goodhue, David Shore, Paul Constable and Aurora Browne. Music by Sean Fisher.
Following the show, Jaymz Bee will moderate a special Q&A session and film screening.
THE ULTIMATE SEASONAL SWING DANCE PARTY!
With Alex Pangman, Christopher Plock and Swing Rosie!
Tuesday December 13
The Mod Club Theatre (722 College)
Doors at 8 / Show at 9
Tix: $20 at the door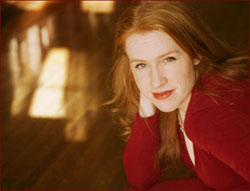 Featuring: Peter Hill (piano) Ka-Cheong Liu (bass) Glenn Anderson (drums) Jesse Barksdale (guitar) Christopher Plock (sax) Kevin Clark (cornet) and William Carn (trombone).
Plus, a very special lindy hop demonstration! Bring your dancing shoes!!!
NEW YEARS EVE AT THE PILOT TAVERN
With Jaymz Bee, Waylen Miki (piano) Lee Hutchison (bass) Great Bob Scott (drums) Sarah McElcheran (trumpet) and vocals by Genevieve and Serafin!
Great Nu Jazz Dance Music and Live Torch!
The Pilot Tavern
22 Cumberland Street, Toronto 416.923.5716
Saturday December 31st
9pm - 3am
Tickets $20 (Only 100 will be sold!)
Contact jaymz@bullhorn.ca to find out how to reserve tix.
This is an intimate party for those who don't need the literal bells and whistles.
Great friends and great music = great times. If you play or sing, we'll get you up!
Cash bar and snacks.
LUIS MARIO OCHOA
CD Launch for "Cimarron"
Tuesday, January 24, 2006
The Mod Club Theatre (722 College St.)
Doors at 7, Show at 8
Tix: $15 at the door / $10 for students and seniors with ID
CD's are $10 for this one night only!
Havana born guitarist/vocalist/composer/arranger Luis Mario Ochoa celebrates the tenth anniversary of the debut recording of his Canadian-based Latin Jazz nonet, Cimarron with the release of the groups third album, also titled Cimarron, which means "free spirit" in Spanish. The CD mixes the rhythms of Cuban Jazz Fusion with hot solos, intricate melodic lines and has an irresistible energy and "sabor" that is contagious! This is the perfect concert to attend to get rid of the January blahs! Hot music in a cool club!
Le Quotidiene Newspaper in Chicoutimi refers to Cimarron's participation in the 2005 World Music Festival in an article written by Daniel Cote, who states:
"In their Quebec premiere, Cimarron delivered a performance of such a high caliber that few can compare, besides Irakere and Los Van Van at the Montreal Jazz Festival in the late 90's. It was a privileged moment and one of the highlights of this year's festival."
CD's MAKE GREAT STOCKING STUFFERS
And finally, JAZZ.FM91 has just release two great CD's that make great gifts this holiday season. The "Captain Bob Farnon" CD is vintage big band music from WWII and "New Standards" is a compilation of local jazz musicians that contains 15 tracks from Toronto-based composers.
The CD's are just $15 plus taxes, postage and handling.You can get more info and order them from www.jazz.fm
MAKE YOUR EVENT PLANNING EASY
Bullhorn has a full line-up of some of the best talent in Toronto. From a small trio to a big band, we are happy to help you make your event a big success.
We have hosts and entertainment available for private parties, Christmas parties, corporate functions, charity events, etc.
You can contact Jaymz Bee or Audrey Nesbitt at BULLHORN for more information.